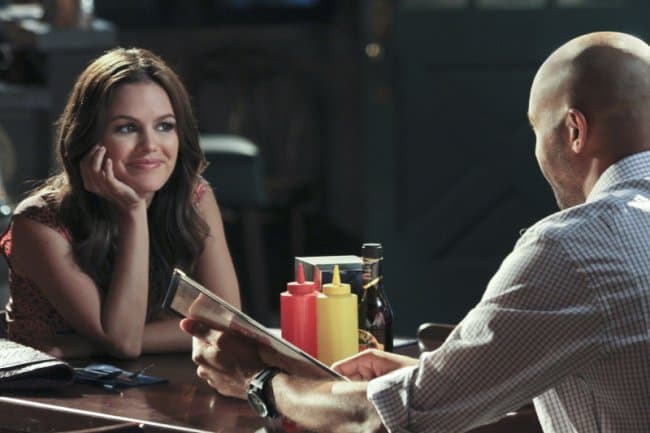 On the last episode of Hart of Dixie, Zoe found that she can't separate her feelings for George and Wade as she led herself to believe. After urging the former to get back into the dating world following his break-up with Lemon, she was visibly anxious every time Wade gave an update on his first night out at the Rammer Jammer as a single man, while her sexual relationship with the latter isn't turning out to be something free, fun, and uncomplicated. Rather than being able to sleep with Wade with no strings attached, Zoe bristled at the thought of him hooking up with a former band mate, going as far as (subconsciously?) planting the idea that the hypochondriac guitar player had nerve damage. However, she seemed to finally understand her feelings by the end of the episode, so you had to wonder how she'd react to that type of revelation.
On an upcoming episode of Hart of Dixie, Dr. Hart finds herself getting jealous of Wade and another woman, to the point that she gets Ruby to set her up on a date. The former cosmetics queen brings Zoe face-to-face with her cousin and the two hit the town in order to make Wade jealous. Wade may talk a big game like he's this aloof playboy only in this situation for the physical benefits, but he's shown that he cares about Dr. Hart enough that seeing her with another guy may actually get to him.
Meanwhile on Hart of Dixie, Lavon has finally found a campaign manager to help him bring down upstart mayoral candidate Ruby – Lemon. The eldest Breeland daughter has reason to throw her hat into the ring, from her desire to prove herself as a worthwhile adult to her father to the chance to go one up on her former high school bully, but when a scandal breaks out and Lavon takes the fall for her, she'll have to work that much harder to get him re-elected.
Hart of Dixie airs Tuesdays at 8:00 on The CW. You can check out my recap of the most recent episode here, as well as spoilers for upcoming episodes here and the TVOvermind Hart of Dixie discussion forum here.
Have you been enjoying Hart of Dixie this season? How do you think Zoe's date with Ruby's cousin will go? Is Lavon making the right decision by appointing Lemon his campaign manager?