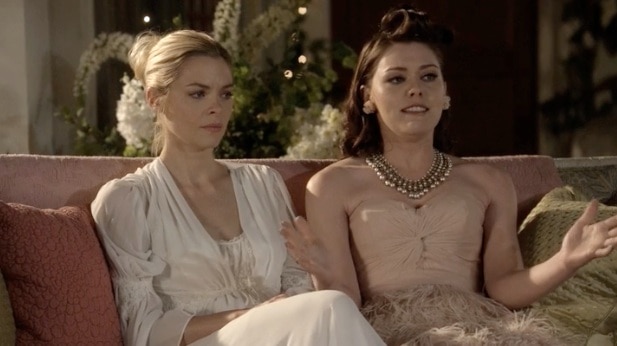 For arguably the first time this season on Hart of Dixie, everybody's happy in their relationship status. Zoe and Wade have made it official and look to be on the same page as to where they're going; George and Tansy have found one another and are living proof that opposites really do attract and bring out the best in one another; Lemon has gotten more comfortable in her life away from George (and Lavon), while Lavon is on the way to discovering that he might be better off on his own than with Ruby. But what happens when certain residents of BlueBell have to confront feelings that they've had to put on the back burner for a while?
Listed below are the date, episode title, and episode description for an upcoming episode of Hart of Dixie.
Tuesday, January 22nd – "Islands in the Stream"
When George's (Scott Porter) parents come to visit, they are thrown when they meet his new girlfriend, Tansy (guest star Mircea Monroe), and George's mother devises a plan that forces George and Zoe (Rachel Bilson) to address their feelings for one another. Lemon (Jaime King) discovers that Brick (Tim Matheson) has a secret girlfriend and is shocked when she finds out who it is. Meanwhile, Annabeth (guest star Kaitlyn Black) is smitten with a charming British visitor to the town, but Lavon (Cress Williams) grows suspicious of him and is determined to uncover his real identity.
If George's parents had acted sooner, this might not have been that awkward of a situation. George and Zoe do have a connection and see things in one another that they like, but it's not the right time for either of them to explore that possibility, not after half a season of uncertainty and soul searching that led them to their current situation. But could being forced to examine the feelings that they've had to press pause on move them closer to giving things a shot? The two haven't been around each other much lately and something like this could serve as a reminder of what they've been missing by exploring relationships with partners they didn't picture themselves with.
Hart of Dixie returns from winter hiatus on Tuesday, January 15th at 8:00 on The CW. You can check out a preview for the next episode here, as well as a recap of the winter finale here.