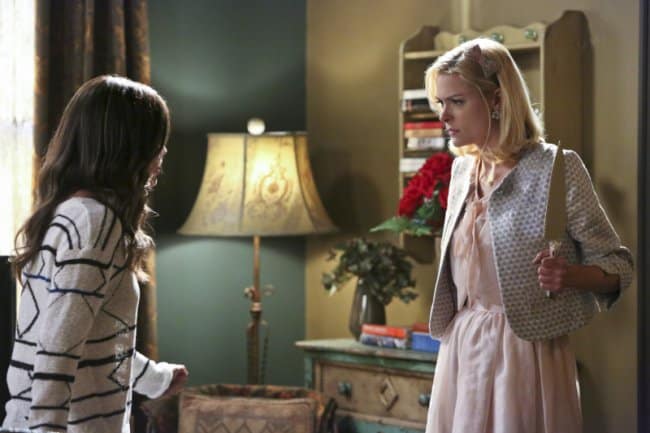 All it takes to overcome being the topic of conversation in a small town is for something even more scandalous to happen. You may be the name on everyone's lips for the moment, but you can become yesterday's news pretty quickly, depending on the goings-on in your town and the hunger that it has for fresh gossip. Being able to ride out that media cycle might seem easier said than done, but once everything's said that can be said, you're free to return to your normal life. On the season premiere of Hart of Dixie, Dr. Hart's tryst with Wade and "emotional affair" with George have become the news of the hour down in BlueBell and she'll need to wait out the storm of judgment coming her way.
Below is the date, episode name, and full episode description for the second season premiere of Hart of Dixie.
Tuesday, October 2nd – "I Fall To Pieces"
After George confesses his feelings to Zoe (Rachel Bilson), she finds herself having to make a tough decision between George (Scott Porter) and Wade (Wilson Bethel), leaving the two guys at odds on how to handle the situation.  In search of some much needed girl advice, Zoe makes a new fast friend in former BlueBell resident Ruby Jeffries (guest star Golden Brooks), who no one is excited to see.  Lemon (Jaime King) decides it's time to get her own apartment and a job, but it's tougher than she thought.  Continuing to forge ahead with her new life, Lemon proceeds to return the wedding presents, but a sudden detour to Zoe's while holding a cake knife creates a stir with the townspeople.
The second season of Hart of Dixie premieres Tuesday, October 2nd at 8:00 on The CW. You can check out a promo for the upcoming season here, as well as photos from the premiere here, spoilers for the season here, and the TVOvermind Hart of Dixie discussion forum here.
How do you think George and Wade will handle the situation with Zoe? Why exactly do you think BlueBell turned against Ruby? Can Lemon learn to stand on her own two feet without George?