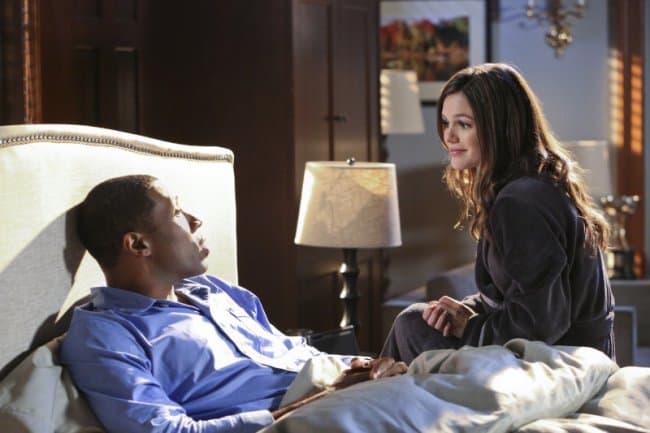 Hart of Dixie is one of my favorite hang-out dramas. It might not be terribly plot-heavy, but there are enough good/great character moments and ever-deepening relationships that I can't help but walk away from every episode with a smile on my face. It's pleasantly fun, it's a little goofy, and it's one of the shows I'm most excited to have back in the fall.
However, the photos for the season 2 premiere of Hart of Dixie, titled "I Fall to Pieces", don't exactly reveal a whole lot about what'll be happening in BlueBell in a few weeks. You see Lemon with a weapon (having heard about the real reason George ended things) and Dr. Hart likely filling Lavon in on all the madness that happened in her love life, but other than that, it's a lot of pretty shots of pretty people. But where exactly did we leave off, again?
At the end of the first season of the show, Dr. Hart had went from being on the outs with both of her love interests to having each man ready to be with her right then and there. It might have been a wealth of riches for Dr. Hart, who had been feeling lonely since moving to Alabama, but it'll have longer lasting effects on the BlueBell populace than one might think.
With George breaking up with Lemon to go after the good doctor, Dr. Hart's work at the clinic might be a little awkward for the time being, once Brick becomes aware of what happened. Lemon's unhappiness at being dumped will spread through town, turning BlueBell even more against the young doctor than they had been before; it'll definitely hit Lavon Hayes sometime in the near future, but something tells me that the mayor will provide a sturdy shoulder to lean on at a time like this.
And there's the whole matter of George and Wade finding out about one another…
The second season of Hart of Dixie premieres Tuesday, October 2nd at 8:00 on The CW. You can check out the first new footage for the season here, as well as the TVOvermind Hart of Dixie discussion forum here.
Will you be watching Hart of Dixie this season? Do you think that Lemon will be able to be around Dr. Hart after what happened with George? How much do you like Dr. Hart's friendship with Lavon Hayes?