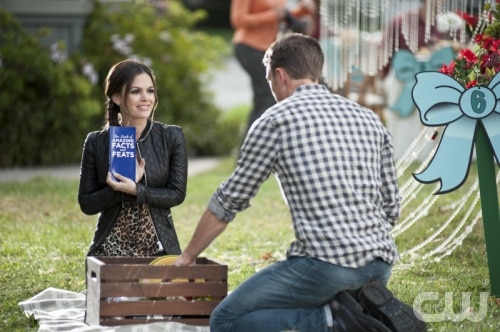 Last week on Hart of Dixie, Wade's feelings about his arrangement with Zoe came out on the camping trip with the Eagle Rangers, as the bartender didn't want to be a placeholder in Dr. Hart's life. He doesn't want to be the man who she has fun and sows her wild oats with before wanting to settle down, but he backed out on telling her this once he got home from the trip. However, tonight on Hart of Dixie, it's a different story.
That's because there's a date auction in BlueBell and it's the perfect opportunity for the two to go on their first official date. They know that they have the sexual chemistry, but now it's a question of making the emotional connection necessary to sustain a relationship long-term. Zoe has previously expressed a desire for her relationship with Wade to go to a deeper level, though since then, they've come to an understanding about their arrangement that both had seemed to be okay with. She should, then, be over the moon at the idea of Wade being the one to instigate something like this and him possibly coming around to wanting to be with her on more than a physical level. However, given her reaction to the news of George knowing about her and Wade at the end of last week's episode, I don't know if she'll necessarily be that excited about the date.
Elsewhere at the auction, Lemon wins Lavon's basket but ends up giving him advice about Ruby on their date, while George tries to create a basket that will appeal to Tansy and get her to bid on him.
Hart of Dixie airs tonight at 8:00 on The CW. You can check out a recap of the most recent episode here, as well as spoilers for next week's fall finale here.
If Zoe and Wade go on a real date, do you think that they'll find that they like each other? Is Lemon giving Lavon advice about Ruby a sign that she's moved on? Will Tansy win George at the auction?
http://www.youtube.com/watch?v=yxvadMK8ngM