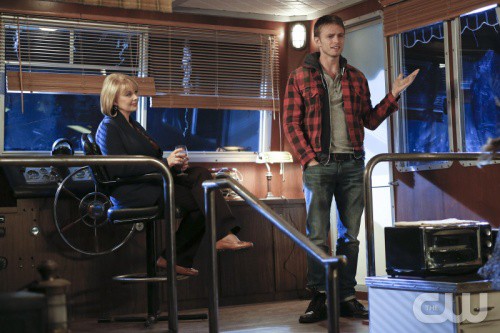 Lavon has taken the break-up with Ruby pretty hard. He doesn't date much anyway, so to go from potentially finding The One to being alone and without one of your good friends is a tough thing to endure. Granted, he's giving Lemon far too much credit for the break-up, as he and Ruby were nearing the end before she told her about her past with Lavon, but still, happy-go-lucky Lavon Hayes is no more. At least for now. But what if he could meet a woman who could help him move on from Ruby and provide the happiness that she couldn't, all the while staying in BlueBell? Coming up on Hart of Dixie, there might be someone who could do just that.
Listed below are the dates, episode titles, and episode descriptions for two upcoming episodes of Hart of Dixie.
Tuesday, January 29th – "Lovesick Blues"
When Zoe (Rachel Bilson) is alerted by the Health Department about a flu epidemic heading towards BlueBell, she is forced to put the town on lockdown. Because of the quarantine, Wade (Wilson Bethel) is forced to stay at his ex-girlfriends house causing Zoe to become jealous. Lemon's (Jaime King) plan for the perfect night with Walt (guest star Rich McDonald, "Generation Kill") goes awry when she begins to feel under the weather. Meanwhile, George (Scott Porter) finds himself roped into directing Lavon's (Cress Williams) tourism commercial about BlueBell's small-town charm, but it seems Lavon, is more preoccupied with his co-star than his commercial.
Tuesday, February 5th – "Take Me Home, Country Roads"
George is given the responsibility of watching Tansy's (guest star Mircea Monroe) most prized possession, her dog, but panics when the dog goes missing. Wade starts to feel frustrated by the lack of alone time with Zoe, especially when she is focused more on not losing her good status in the town to a new doctor, Jonah (guest star Travis Van Winkle), who also happens to be Brick's (Tim Matheson) nephew. Brick is ready to let the town know about his relationship with Shelby (guest star Laura Bell Bundy), but Lemon and Magnolia (guest star Claudia Lee) are doing everything they can to get rid of her. Meanwhile, Lavon wants to take a chance on a new relationship, but first has to clear the air with one person.
Hart of Dixie airs Tuesdays at 8:00 on The CW.
Who do you think Lavon will want to be in a relationship with? Will Lemon and Magnolia succeed in getting rid of Shelby? Can Zoe pull back on her competitiveness with Jonah and find alone time to spend with Wade?