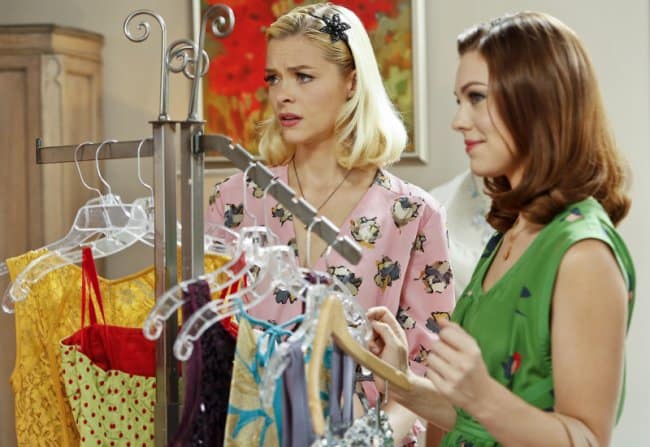 One of the themes of this season of Hart of Dixie is the constant search one has for independence. Dr. Hart, George, and Lemon are each looking to find themselves away from their romantic lives, while Lavon and Ruby strive to find direction in their careers, even if they have to do battle politically to find it. All this maneuvering and the requisite growing pains will be having long-reaching impact on one another and the rest of BlueBell, but at this point, personal evolution might have to trump being the topic of conversation in town for a little while.
Below are the dates, episode titles, and full episode descriptions for the final two Hart of Dixie episodes this month.
Tuesday, October 23rd – "Suspicious Minds"
While Zoe (Rachel Bilson) tries to keep things casual with Wade (Wilson Bethel), she becomes jealous after she sees him with another woman. Zoe decides to two can play at that game, and sets up a date with Ruby's (guest star Golden Brooks) cousin. Reluctantly, Lavon (Cress Williams) agrees to let Lemon (Jaime King) be his campaign manager, but he unexpectedly becomes part of a town scandal when he takes the fall for her, a move which could end up costing him the Mayoral race. Meanwhile, with Lemon out of the house, Brick (Tim Matheson) and Magnolia (guest star Claudia Lee) struggle with the household chores and devise a plan to get Lemon to come back.
Tuesday, October 30th – "Walkin' After Midnight"
With Halloween right around the corner, Zoe begins to notice some odd occurrences happening in her home. She is shocked to discover that the culprit is George (Scott Porter), but she soon realizes that he may have a sleepwalking issue. Concerned for his safety, they decide to conduct a sleep study, forcing her to cancel her big plans with Wade. Meanwhile, the Mayoral race between Lavon and Ruby is close, and AnnaBeth (guest star Kaitlyn Black) comes up with an unusual plan that may help him clinch the election leaving Lemon feeling uneasy.
Hart of Dixie airs Tuesdays at 8:00 on The CW. You can check out my recap of last night's episode here, as well as photos from next week's episode here and the TVOvermind Hart of Dixie discussion forum here.
Will Wade find himself jealous of Zoe going out with Ruby's cousin? How close will the mayoral race between Lavon and Ruby get? Should Lemon move back home?