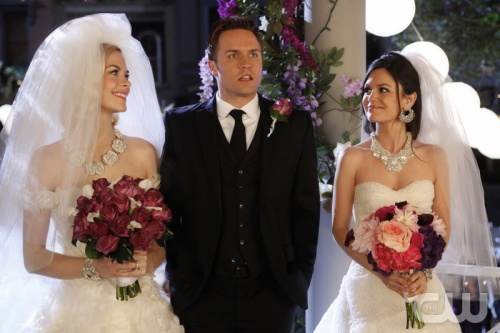 To the naked eye, it seems like George Tucker and Lemon Breeland are a pretty solid couple. Attractive, successful, together for 15 years – they're a constant in the town of Bluebell, a reassuring source of stability in a town that prides itself on celebrating the past. The thing is, though, Hart of Dixie viewers have known about the issues that run through their relationship for a while, from George's affection for Zoe to Lemon's indiscretion with Lavon and general insecurity. Though it looked like the couple had made it through arguably the roughest time in their relationship recently, a preview from the Hart of Dixie finale suggests otherwise.
It may just be normal pre-wedding jitters that triggered George's nightmare, though it feels like the ceremony is happening too soon after their latest reconciliation. George and Lemon may be on better terms and on the road to being ready to wed; they still have to work out the major problems in their relationship before getting married makes sense. And I don't think they've done that, as George's dream suggests that the specter of Zoe and Lavon is still haunting him to this day. Perhaps he's not as over the thought of Zoe Hart as he might have suggested?
During the thunderstorm that threatens to mar the wedding day to end all wedding days, Wade and Zoe end up in a barn, soaking wet and at one another's throats. I don't think that what Wade says, about how his attraction stems from her unattainable status, is completely accurate; he's reached out, multiple times, to Zoe on much more than a physical level. Yes, they have great physical chemistry, but how he acted at the Bluebell Battle, for example, showed that it's not (all) about getting into her pants. Wade has kind of shutdown when it comes to putting himself out there for Zoe, thanks to being rejected/interrupted so often, so it may be up to her to take the lead and clear the air.
The season finale of Hart of Dixie airs Monday at 9:00 on The CW. To check out another clip and pictures from the finale, be sure to click here.
Do you think George is ready to be married to Lemon? Is Wade being honest about his feelings toward Zoe? Have you ever been "goat blocked"?