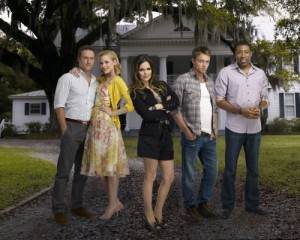 Rachel Bilson returns to TV this fall on The CW in the new show Hart of Dixie. Bilson stars as Zoe Hart, a driven medical student who has recently graduated and is set to do her residency. She seemingly has the perfect life: a gorgeous boyfriend and a plan to become a cardio-thoracic surgeon. But everything falls apart when her boyfriend breaks up with her and her boss tells her she didn't get the residency fellowship she was going for.
She decides to accept a job offer from Dr. Harley Wilkes, a general practitioner from Bluebell, Alabama. Zoe packs up her life and moves to the small town, but learns that Harley has passed away before she arrived. She also learns that Harley left his half of the practice to her. Zoe decides to stay in Bluebell and try to make things work, but not everyone in town is happy about her arrival. The other doctor in town, Brick Breeland, and his daughter Lemon don't like Zoe. But she does make a few friends, including the mayor, a former football player named Lavon Hayes, her neighbor Wade Kinsella and a handsome lawyer (who also happens to be engaged to Lemon) named George Tucker. Two of the producers of Hart of Dixie are Josh Schwartz and Stephanie Savage who have also produced Gossip Girl and The O.C.
The CW has released a six minute trailer for the new show, which you can view below. Hart of Dixie will be airing Mondays at 9:00 p.m. ET, following Gossip Girl (90210 will be moving to Tuesday nights).
clarissa @ tvovermind.com
twitter.com/clarissa373
twitter.com/tvovermind