About two hours ago the internet erupted into a swirl of confusion and chaos as a twitter page lit a fandom on fire. The culprit of the confusion was actress Felicia Day, who posted on her twitter page,
Man, day getting worse and worse. Found out my Dollhouse ep, #13 isn't gonna air. Only on DVD. Such a great part too. Thx Fox. :(
And then an hour later posted again,
Thx all, to clarify seems like they'll air #12 as the finale and not air my ep #13 at all? So weird :( Ask @foxbroadcasting I guess?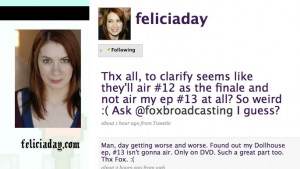 Rumors immediately began to swirl that Dollhouse had been canceled by Fox across the internet. Fortunately for Dollhouse fans the hysteria is all for nothing, as Dollhouse has NOT been canceled…at least, not yet. So what's the deal with the 13 episode?
The best explanation comes from Kristin at eonline. Basically, Fox Studios produced 14 episodes of Dollhouse this season. The original pilot was one of those, but it was redone for a new first episode after Fox's disappointment last year. So that still leaves us with 13 episodes remaining, however, a quick look at Wikipedia will tell you that the finale this season is title Omega, which was always planned as the finale of the season. It turns out that the mystery 13th episode, titled "Epitaph One," was filmed by Fox Studios (and does in fact have Felicia Day in it). However Fox Networks (which is separate from Fox Studios) never bought the 13th episode and have decided definitely not to air it, probably ever. The episode is said to be more of a stand alone episode and will probably end up getting added to the season 1 DVD set. So essentially all of the hoopla came about because fans misinterpreted Felicia Day's twitter post and spread the news like wildfire.
Dollhouse is still on the fence as to whether it'll be renewed or not. Some sites have reported that it is in fact close to getting renewed, while others say that its ratings show that it doesn't have a chance at survival. But the fate of Dollhouse will have to wait for another day.
Source: eOnline