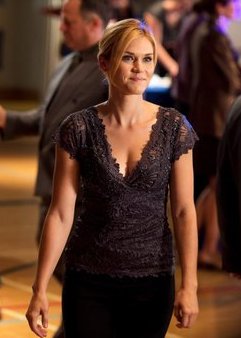 "It's the relationships that really drive the show. It's not special effects or what sci-fi Trouble will happen that week. It really is the ongoing saga that happens between the characters." That from former WWE star Adam 'Edge' Copeland regarding the reason for Haven's enduring success.
Adam joined Emily Rose and Eric Balfour in a recent press conference about the final two episodes of Syfy's hit series' third season, both airing tonight (following an all-day Haven marathon). For the record, the show has been picked up for a fourth season but where the story will lead next is anybody's guess. Much depends on whether Audrey decides to enter the barn.
"It's been really fascinating how the barn has grown in prominence as the season has gone along." Rose pondered on the barn's growing significance, "That's probably the most exciting thing about the last episode: how close we get to unearthing this mythical building and what it is. I still don't quite understand everything that it is. But it's been really neat, you know, one of those things you sort of dance around for a long time in each of the seasons and then you finally go, "Oh, this is cool. We're actually going to go there. This is really interesting." It's been really fun for me. It feels, in a way, like a really interesting kind of portal, like the fun mystery of The Lion, the Witch and the Wardrobe. I'll be really fascinated to hopefully find out more about it as the seasons go on."
Asked about all that couldn't be discussed in this season's previous press conference for fear of spoilers, Eric happily confided, "Now that we've seen how some things have transpired, there are lots we can talk about that we didn't want to reveal before now. I think the biggest thing is that we knew so little compared to what we thought we knew about all of the various characters. We're learning things about Dwight's past. We're learning about the other incarnations of Emily's character: Sarah and Lucy. These huge character reveals were very difficult to talk about because they were so pivotal to the storyline this season. And I'm excited to say that there is so much more to be revealed in the last two episodes of the season. I can't say enough about this season's finale. In some ways what we're going to do to the fans is cruel. And we're doing it because we love you. I just want to make that clear. We're doing it out of love and it's for your own personal growth and evolution."
For Adam 'Edge' Copeland the evolution of Dwight has been pleasantly full of surprises. What surprised him most about his onscreen alter ego? "The reveal of his possible membership, or, at least past membership in the Guard. I think that was the biggest reveal for me. I was like "Oh, okay, that's pretty cool. This adds a new element."" Copeland explained, "Dwight wasn't originally supposed to be a regular character on the show. This has all just fallen into place as we've gone along, which can make it challenging in one respect because you don't necessarily know where it's going. But at the same time I was kind of used to that in the old gig so it's neat to still need to be on my toes and responding to surprises. But I do like the fact that Dwight is the Cleaner which means he gets to interact with everyone. And there's going to be a lot of things that you don't see that he does that could play into things later on." One aspect he liked most about becoming a series regular was the time he got to spend with fellow co-stars. "I really liked and enjoyed my interaction with the Teagues, with Vince and Dave. Richard (Donat) and John (Dunsworth) are just so much fun to work with. Every time I watch the show and they pop on I get a smile on my face. They really add a lot to the show and it was great fun getting to work them more this year."
If you're curious to learn more about Dwight's backstory, you're not alone. Copeland is cautiously hopeful that more of Dwight's past will surface as well. "Little by little, I think, layers have kind of been peeled back. If you were to compare Haven to Marvel's The Avengers, I think Dwight is kind of like the Thor of the group and Duke is kind of like Iron Man. Nathan is Captain America and Audrey, I guess, would be Black Widow. In those terms, and as much as I liked the movie, I think if we saw too much of Thor it could get old." Adding, "If we do start to get into a little bit more of his backstory then it will be more of an acting challenge for me, so that will be good."
When the trio were questioned about the biggest individual acting challenges the third season presented to them Adam was quick to confess, "The whole acting process is still very new and challenging to me at this point, I'm really still learning. One of the things that I really wanted to try to do is just come in with my eyes and ears wide open and just listen 'n watch. And that was really all I've been trying to do. I'm actually taking steps to try and get better at this because it's been a lot of fun, kind of cathartic, and a creative process that I need. For me, the biggest challenge is just trying to get somewhat passable at the whole acting thing."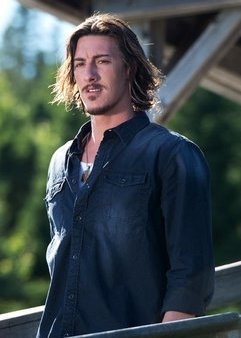 Eric Balfour took the opportunity to have some fun with Adam. "The most difficult challenge for me this season was having to do scenes with Adam Copeland and pretending like I didn't like him because I just want to eat him up, you know? I just want to mush him into a little ball and shove him in my mouth and suck on him. It's been so much fun to watch him blossom. I'm so proud of him that he's found a comfort level and a groove. I mean, obviously, you don't get to where he's gotten in life without being talented and charismatic but being a great athlete in one arena doesn't immediately mean it translates to some other sport. He's just getting better and better and better. It's so much fun to watch what he does because he actually goes beyond what's on the page and brings something new to it now, making it all the more interesting."
"I think it was just creating people other than Audrey," Emily cited as her biggest challenge. "It was really exciting for me to be able to do that. Sarah was a really fun character to create and it was a scary challenge because I didn't know if I'd be happy with the end result. But to be honest an even harder person to create, that I'm still trying to figure out even though she didn't have as much screentime as Sarah did, was Lucy because Lucy was somebody that we had met in a previous season. She's been a visual, but we never really talked to her or heard her voice other than meeting the actual Lucy in Season Two. To snap out of Audrey for a few scenes a day and to have the softness or curiosity of these different women while maintaining certain character traits or common threads is tricky. It's a challenge that I enjoy, but it's still tricky."
Comparing and contrasting the character of Duke this (third) season to Seasons One and Two, Eric shared, "I think he is being more true to his nature this season and it has been a really fun, well-written dichotomy to play. Duke's always had a very clear code of honor which made him fun because he was frequently compromising. Uncompromising people are sort of easy to like but I think Duke's continuing struggle, because of the things that have happened to him in his life and the nature of the character's backstory, makes him much more interesting. I think there's always going to be that struggle for him."
Will Audrey and Duke ever get together romantically? "You know, I think there's an amazing thing about human nature where we want what we can't have. And once we get it we sometimes don't want it anymore. I think that's true with audiences as well." Balfour elaborated, "I know there are people who root for Audrey and Duke to be together and Audrey and Nathan to be together, and there are people who even root for Duke and Nathan to be together and I embrace those people too. I think one of the beautiful dances of a show like this is figuring out interesting and intelligent ways to bring the characters together, pull them apart and then bring them together again. I think that's something that I'm always fascinated by because it's pretty true to human nature." Emily agreed, "Yes, it's definitely one of those things where you feel like if we were to have gone there in the first season or even the second season it wouldn't necessarily be wanted right now."
Logistically, Audrey undeniably spent more screentime with Duke this third season than she did with Nathan. Addressing their time together Rose explained, "Working with Eric specifically is really fun for me because Audrey gets to express this other side of herself that she doesn't usually get to express necessarily with Nathan. In the first season Audrey and Duke were like these animals sort of circling one another and being like, "What are you about?" "What are you about?" It's a real fun relationship now that they have this friendship and it's been really neat because it just brings out the different sides of these characters. She feels safe letting her hair down with him. She knows that he's there for her. They've overcome some big things and now she really admires him and sees this other side of him. I think that's something I really like about the finale too, you see all these characters bump off of each other and Audrey having to face each of these characters. It's exciting to not have any of that get cut short."
Eric Balfour affirmed, "In reference to what Emily just said about the finale, I just want to put it out there: mind-blowing, like literally. The season finale is so epic and kick-ass. I'm probably not going to surprise anybody by revealing that the season ends with a cliffhanger." "Yes, it is pretty big." Emily confessed, "It messed with me for a little bit, I have to say."
The episode preceding the finale, "Reunion," is actually a bit more comedic and light-hearted than most Haven fans might readily expect. Rose recalled, "I just remember being very pleasantly surprised after realizing it's kind of like the calm before the storm, you know? It was definitely fun to film. It's good to have some humor before it all hits the fan."
Tune into Haven tonight to see for yourself what develops between Audrey, Nathan and Duke (and what potentially happens with Dwight too) as Syfy presents the final pair of Season Three episodes beginning at 8/7c with "Reunion" and then the season finale titled, "Thanks for the Memories" @ 9/8c.