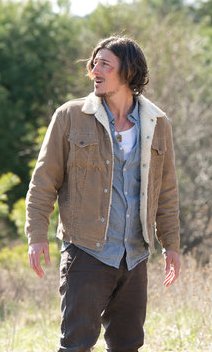 While enthusiastic TV fans wait every summer to embrace each new viewing season, this Fall's primetime line-up promises a "troubling" genre development,… the Fall debut of Syfy hit Haven. Earlier this month, on the very last day of shooting Season Three, the series' three main leads spoke to the media (from the set) about the dynamic upcoming season and the changes in store for their characters. They assured us that this season will be bigger and much more dangerous than any before.
Eric Balfour (a.k.a. Duke Crocker) began by addressing the implications of Haven's transition to the Fall from previously being a fan-favorite Summer show. "It feels like a real validation to have Syfy believe in us enough to put us on the Fall schedule. Obviously in the Fall there are more shows, more options for people to tune into, simply put – more competition. But where there's great risk there's the potential for great reward and I think that's what we're facing right now. Fortunately we have great support from our network and our studios who promote us with every resource they have. But we really need fans of the show to tell your friends and use social media to spread the word. Because no matter how big a network is or how powerful a company is, what generates a show's ratings and what keeps it on the air is the fans who tune in every week. And it really is that much more important this year for the fans of the show and bloggers and twitter feeds that love the show to remind people that it's coming back on. We have this great opportunity that Syfy has given us and it's now up to us and the fans to really deliver and bring more people to the table." Lucas Bryant (a.k.a. Nathan Wuornos) added, "The stakes are just that much higher."
"The show looks and feels bigger," Lucas explained, "the show's really got its game on this season. Each episode is bigger and better than ever before. I think we've all succeeded in producing hugely ambitious storylines – the lid gets blown off a lot of it this year and I'm excited to see how people react to it. A lot of big questions and big mysteries are answered in a way that they haven't been up until now." "Yes," Emily Rose (a.k.a. Audrey Parker) agreed, "the neat thing about the sci-fi genre is that a lot of things are possible and this season we actually go into a lot of those questions and see some of those answers face to face. It's a very strong season." Eric teased, "I'm excited for fans to see just how deep the rabbit hole goes this year. Haven really opens Pandora's box and kind of lets everything out of the bag."
So how does the new season start tonight? Emily revealed, "The season starts out in a very interesting place for all three characters. All the relationships are kind of at odds with each other, yet they're forced to sort of work together to get through it. Personal agendas have to get pushed to the side. Their relationships get stronger and then break apart and then get stronger again but in a different ways. These three characters actually have a lot invested in one another." Balfour concurred, "I think this season is going to have the most enormous consequences on all three of these characters and as people watch they're going to see things happen to and between these characters that they never could've imagined. All three characters are really sent on a journey to the furthest reaches of their limits."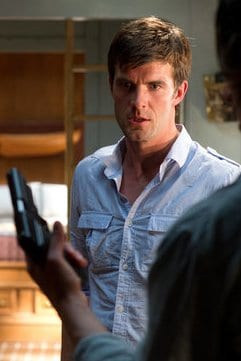 So-called "shippers" among the fanbase always crave more info about the love triangle between Audrey and the two most important men in her life. Rose confessed, "Audrey has a large mission put in front of her this season that affects how she views and handles her relationships. It kind of messes with the communication between all of them because she's trying to protect the people she loves as well as love them and love them well." Lucas Bryant contributed, "Nathan and Audrey's relationship as friends is really special. So it's a tricky situation to explore anything beyond that. I think the writers have done a great job of always sort of teasing the possibilities but maintaining that mutual friend respect underneath it all. And this year, I think they found very interesting ways to maybe satisfy some fan urges without messing up the characters' basic relationship." "There's also an incredible reveal about Duke's relationship to Audrey," Balfour chimed in, "Duke also finds out some pretty amazing things about his relationship to, and dynamic with, Audrey."
Indeed, Duke fans will see major changes to his character in Season Three. Eric shared, "A big part of Duke's entire arc this season is his struggle with the power that he has and not really wanting to have it. He's going to learn a lot about his family and where these powers come from as well as facing a decision about who he wants to be and how he wants to use these powers. He'll be pushed to the limit and will have to make some really tough choices about the people in his life and where he fits into this world."
One of the major issues coming up between Nathan and Duke is Duke's deathly fear of Nathan's tattoo. Lucas and Eric were asked specifically about the tattoo issue. "The tattoo does come up in a very important way and is a large story point throughout the whole third season" Stated Bryant. "The tattoo is a device," Eric replied, "a device that is used to further separate the divide between Nathan and Duke. Fans of the show have always seen that there is this underlying respect and love between Nathan and Duke – they're like brothers in many ways. I think the desire that fans have, and, even we as actors have for these two guys to finally resolve their issues is one of the funnest storylines in the series. The tragedy there, though, is that they may never be able to; but that's what you're rooting for. I think the tattoo and the symbolism of it is just another device to continue that."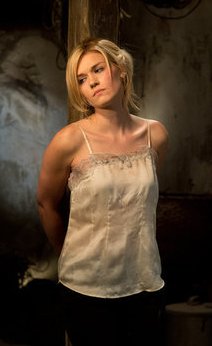 The central mystery of Haven has always revolved around Audrey's struggle to learn who she is and how her hidden history involved the town. What could Emily tell us about how her character's development in Season Three? "In the first season Audrey was just curious about her connection to the town of Haven. By season three, she's facing some really, really dark, dark, questions regarding who she is and there's a sort of ticking clock in play. So it's really, really hard and I think she's in a really intense place all season long. It's not a fun place for her to be in mentally." This season will also reveal more about Lucy and Sarah, which Rose described as "one of my absolute favorite things about this season." Continuing, "It's very rare to be cast as a character that lets you get to play other characters. And the fact that I was given the opportunity to create another two, entirely different, people and be allowed to take the risks and do what you need to do [for that] is really exciting and was really, really neat. I had a lot of fun and learned a lot playing scenes as Sarah, you know, not just posing for photographs but actually being her."
With October nearly upon us, Haven's Halloween episode (filmed in a house with quite an extreme reputation) portents to be a true showpiece of Season Three. Eric laughingly divulged, "Yes, apparently the cast of Ghost Hunters International – another Syfy show – wouldn't even come to this house because they were too afraid." Lucas affirmed, "It was definitely a creepy, claustrophobic joint and we did get a visit from the local paranormal society trying to warn us off shooting there – but we don't take any advice from anyone." "Jason Priestley came back and directed that episode," Emily relayed, "it's always fun to see him and have him working with us again. But, we were really happy to get out of that creepy house."
Another sure-fired season highlight was also the "most memorable" for each of the three castmates to make. Emily described her personal love for the period production design of Episode 309. "It's a time travel episode and every single department showed out, like, completely to the nines. I mean, it felt like a film. Haven was still Haven, because it already feels classic and sort of timeless, but it was great getting to see it shine in all its 1950s era glory. It was fan-freaking-tastic." Lucas Bryant agreed, "It really was one of the funnest parts of this season, getting to see Haven at the turn of the century and in other decades. You know, we've always sort of known these different incarnations of Audrey existed but to go and see some of the different versions should be a lot of fun for the fans." "That whole episode was one of my highlights from this year too." Eric Balfour declared, "it was like doing a period film. The production value was just amazing. Hair and makeup and wardrobe and the art department really did a phenomenal job and we had such cool locations and scenes. It was really exciting to be a part of."
Experience the excitement and troubling tumult of Season Three, premiering tonight, @ 10/9c only on Syfy. Make sure to grab your free sticker from GetGlue just for checking-in, and if you haven't already, definitely download the free Syfy app for Xbox LIVE GOLD subscribers. Learn more about how your Xbox 360 can heighten your Haven experience here. And check out the Season Three preview clip below.