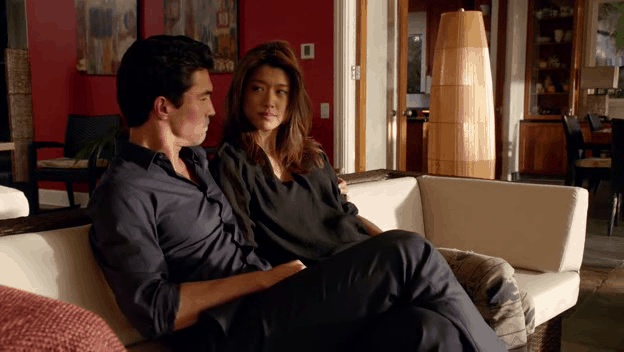 Reunited and it feels so good! After about a year in prison, Adam Noshimuri is finally allowed to come home to his wife and the rest of his Five-0 Ohana. His return puts an extra spring in everyone's step. Adam comes home on a mission of mercy, determined to make an important connection to help someone in need. He's not the only one whose emotional connections are important. For Hawaii Five-0, these connections can sometimes be the difference between life and death.
When Adam was sentenced to prison for killing two men (who kidnapped and tortured him and Kono on their honeymoon), it seemed like it would be an eternity before they reunited. There were some moments which broke up the time. Kono certainly kept busy with work. Of course there was the time Adam broke out of prison and nearly died several times at the hands of his fellow inmates. Everyone is overjoyed that Adam is back. Friends and former enemies alike wish Adam welcome home. Flippa serenades Adam and Kono with an outstanding version of Marvin Gaye's "Let's Get It On", and Sang Men sends a congratulatory, if crude, message to the couple. Kono is given the day off to take advantage of Flippa's suggestion. After the couple reunites, they discuss what the heck Adam is going to do with the rest of his life after years of trying to disentangle himself from his family's past. Adam isn't sure what he's going to do, but repaying any debts he has left seems like a good place to start. He wants to track down the daughter of a friend he made in prison, someone who was good to him. His friend is dying, so if father and daughter are going to reunite, there's not much time left. Adam's friend made a lot of stupid mistakes which affected his family, but he's not the same man anymore. Adam does manage to reunited father and daughter. It's a great start to the rest of Adam's life.
While Kono enjoys some quality time with her husband, the boys deal with a bulletproof bulldozer which Steve is only too happy to face head on. The bulldozer plowed into a gun range which had a secret stash of weapons in the basement which are illegal to own in Hawaii. These gun enthusiasts are serious about their methods. Using a bulldozer with a perfectly shaped hole in the bottom to escape down into a storm drain is pretty clever. Ever the gun enthusiast himself, Steve calls a contact who points them in the direction of Matty McConnell, a fellow gun enthusiast and social media mavin. He would be the first person the thieves would sell to. By the time Five-0 finds McConnell, he's already been killed with his shiny new toy. Through social media posts from a deceased McConnell's account, the team realizes their killer launching an anti-gun crusade with an arsenal.
The thief is Marvin Oshweller, a man who lost his son to gun violence. He wants his message to be heard, but he needs a stage. Which is why he takes over a courtroom full of hostages and demands a news crew be brought in to broadcast. Kono and Grover pose as the news crew to keep everyone safe. Of course an over-eager judge who was issued a weapons permit decides to take matters into his own hands, which blows Kono and Grover's covers. In the chaos Five-0 gets the real story behind this whole mess. Marvin's real name is Kyle Kane. His son wasn't a shooting victim, he was the shooter, a bullied kid pushed to his limit.
The case makes for very interesting McDanno car banter which revolves around gun violence and the 2nd Amendment. Even between best friends this can be a very touchy subject. They have very different views on the issue of citizens' rights to bear arms. It affects how they handle the hostage crisis. Steve wants to breach the courtroom to protect the hostages. Danny knows how to reach Kyle as a cop and as a father. Danny only carries a gun because it's his job. As a father he is also sickened how easy it is for people to have such easy access to mass weaponry. Danny's connection with Kyle on this level is what gives Kyle the strength to surrender.
Speaking of fatherly responsibilities, Chin still has Sara for a few more weeks before she's scheduled to go live in Mexico. Coughlin's contacts can't tell Chin one way or the other if Sara's relatives are connected to a cartel. Chin will use the remaining time he has Sara to dig until he knows the truth.
What are your thoughts on this week's episode?
Hawaii Five-0 Season 7 Episode 5 Review: "Ke Ku 'Ana (The Stand)"
Summary
Adam comes home on a mission of mercy while Danny connects with another father on this week's Hawaii Five-0.