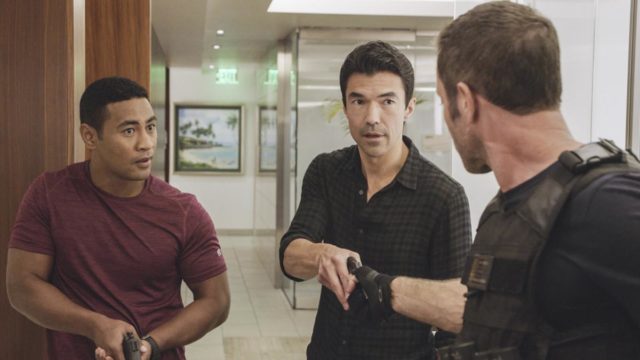 We have just one thing to say for this week's Hawaii Five-0: Welcome Home Adam. The loss of Chin and Kono has been a heavy weight to Five-0, no matter how much they try to downplay it onscreen. The new recruits are great, but it just isn't the same. Someone needed to come home, and it had to be a member of the Ohana that was really missed. And so, Adam Noshimuri has returned to rebuild his life (again). This may be the most difficult time he has had to do this, but like before, he just needs purpose. What better purpose could there be for the son of a crime boss than a place with Five-0?
While I'm ecstatic to see Ian Anthony Dale again, it is heartbreaking to know that he has come home without his other half. For the last few months, Adam has been following Kono around the country. While she has been pursuing new leads in her trafficking cases, he has been waiting in motels for his wife to come back. Adam fought for a long, long time for his future with Kono. He didn't fight his way out of organized crime, and out of prison, to sit in random motel rooms waiting to live his life. Kono must do what she feels is right, but Adam has the right to live his own life. This time, it has to be about him.
Adam isn't home half an hour when he's swept up in a bank robbery in progress. While McGarrett would happily have Adam and Junior sit out this fight, they are both itching for some action. Adam must have been very, very bored the last few months. The minute things heat up with a pursuit, he's like Steve 2.0. Unfortunately, Adam can't stop a tragedy of circumstances. Steve makes a split second decision to take a shot at a suspect he can't see, only to shoot a cop. At least that's what Steve is made to think. Really, the robbers took $10 million from the vault and escaped the area by blending in as police. Unfortunately, their man on the inside was taken into custody. In the process of shutting him up, the robbers were caught, cash in hand. I agree with Grover on this one-the criminals don't usually come to them. That part was kind of dumb when you think about it.
Though Adam is apart of the old Ohana, he has something in common with the new recruits. They are all lost.  Tani will soon be at a crossroads with her brother. She cannot continue to use her badge to get him out of trouble, especially if he continues to disregard her warnings. Adam knows all too well what it is to be the 'good' sibling. Hopefully Tani's situation doesn't escalate to the place Adam's did. Junior has been moving so fast, so focused, he hasn't stopped to mourn the life he could have had. Adam may eventually need to start that process. Steve hasn't done anything thus far but offer Adam an ear, but Adam knows how to handle himself.
A position with Five-0 could be just what Adam needs. The question is, will Steve give him a chance?
Hawaii Five-0 Season 8 Episode 7 Review: "Kau Ka 'Onohi Ali'i I Luna (The Royal Eyes Rest Above)"
Summary
In need of a purpose to rebuild his life, Adam returns to Hawaii Five-0.