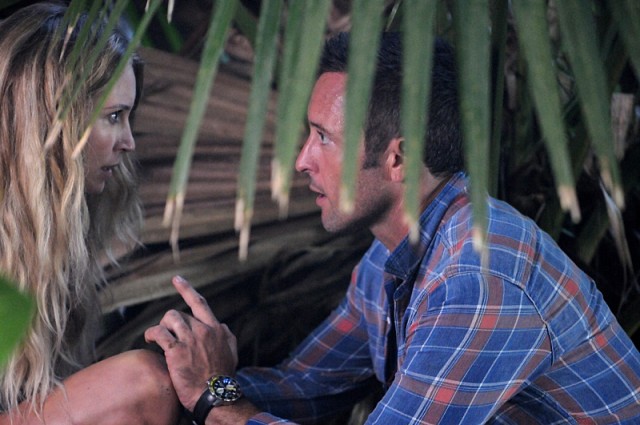 Talk about a killer date! Sarah Carter guests stars on this week's Hawaii Five-0 as McGarrett's first date since his break-up with Catherine. First dates are always nerve-wracking, but they're not supposed to be life-and-death nerve-wracking.
Lynn works for the Department of Human Resources at the University of Hawaii with troubled adolescents, so we know she can handle a lot. Ellie introduces Steve to Lynn, and they agree to have their first date snorkeling off of one of the smaller, deserted Hawaiian islands. Lou is wary of this idea at first, but of course as soon as he sees Lynn he thinks Steve should just stay away forever. Lynn and Steve actually get along fantastically. It does my McGarrett-loving heart good to see him loosening up and smiling so much. He's taking selfies, having fun teasing, and even lets her drive the boat. Let's see what Danny thinks about Steve letting Lynn drive the first time around.
While exploring the island Lynn and Steve get turned around and end up finding an intact plane with a machine-gun toting man beside it. They try to make it back to the boat to escape, but it has already been torched. Their only way off the island is to get back to the plane and hope for some kind of ammunition or radio communication. So off the new duo goes into the wilderness. After a slight delay and a scuffle with their armed friend, Lynn and Steve get to the plane safely. Here they figure out that the man chasing them is an escaped fugitive who bribed the FBI to fake his death. Steve distracts the man and his partner long enough for Lynn to steal their boat, but she gets caught. This culminates in a stand-off where the man has Lynn but Steve has the other criminal. Steve is able to subdue both criminals and get them all back to Oahu safely, with Lynn at his side with her finger on the trigger in case they get trouble. Once they're back on safe land, Lynn tells Steve she thinks their first date went pretty well, considering they are both still alive. Someone needs to send Ellie a gift basket for introducing Steve to such a catch.
Back in the Oahu, the gang is trying to enjoy a football game at Chin's alma mater. Chin quickly realizes that the star player, Jesse, is purposely throwing a key game. With this kid's future at college football at stake, and two goons in the stands, Chin knows he needs help. Sure enough Jesse's father has been kidnapped in order to influence Jesse to throw the game. Five-0 intervenes immediately. Let it be noted that classic Good Cop-Bad Cop works when you let Chin's inner bad cop out on guys who make him angry. It's a race against the clock, literally the game's clock, to save Jesse's dad. Chin and Lou make it with not even seconds to spare, and Jesse is finally able to breathe knowing both his father and his future are safe.
Could Lynn be the new 'one' for Steve?
[Photo credit: Norman Shapiro/CBS]