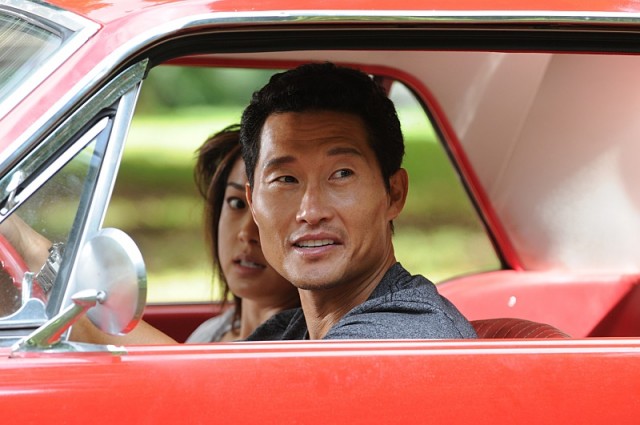 Looks like our favorite cops will be having a good bit of fun in tonight's episode of Hawaii Five-0. While the all-new hour, titled "Umia Ka Hanu (Hold the Breath)," will certainly feature its fair share of drama, this clip featuring Chin, Kono, Steve, and Danny is anything but dramatic (well, unless you're talking about Steve's reaction to traffic).
In the scene, the four friends try to figure out the best way to beat the Hawaii traffic, but when Chin offers up a shortcut that only he knows, Steve shoots him down, believing he alone has the quickest way to get to their destination. And of course, since the two of them can't agree on which route to take, it leads to quite the entertaining bet between the cops, with Kono on Chin's side and Danny on Steve's. Check out the clip below, and let us know in the comments which way you think will be faster: Steve's or Chin's.
Additionally, CBS has also released another Hawaii Five-0Â scene featuring Lou Grover (Chi McBride) and Clay Maxwell (Mykelti Williamson). It's a little less light and more intense than the scene above (since Grover is interrogating Clay about killing his wife), but it definitely gives us more insight into what the main story will be in tonight's episode.
Hawaii Five-0 airs Fridays at 9 p.m. on CBS. 
While Grover travels to Chicago to finally get a confession from Clay Maxwell about killing his wife, Chin and Kono are held at gunpoint by two killers who have no idea they are cops, on HAWAII FIVE-0, Friday, Jan. 22 (9:00-10:00 PM, ET/PT), on the CBS Television Network. Â Mykelti Williamson returns as Clay Maxwell.
[Photo credit: Norman Shapiro/CBS]