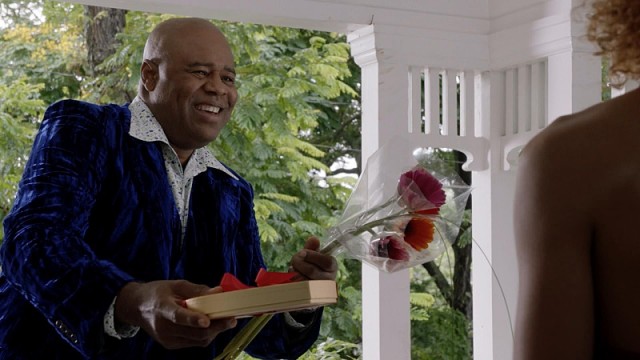 Love is in the air in tonight's episode of Hawaii Five-0, but that doesn't mean that every member of the team will be having the best Valentine's Day. In fact, from the sneak peeks below, it looks like most of them are having a pretty rough time celebrating the holiday.
In the clips below, Lou tries to "surprise" Renee, but it doesn't go as well as he hoped. Meanwhile, Chin finds himself in an awkward position when he runs into Duke and his wife wearing nothing but a towel.
Really, out of all the of the situations shown in the sneak peeks from tonight's all-new hour, titled "Hoa 'Inea (Misery Loves Company)," the only person who appears to be having any luck on Valentine's Day is Jerry, who finally meets a girl he's been talking online in person. For more information on the episode's storylines, check out CBS' official description below:
Five-0 investigates a double homicide involving marital infidelity as McGarrett and the team recount their disastrous Valentine's Day experiences. Chef Masaharu Morimoto guest stars as himself.
While that description of tonight's Hawaii Five-0 doesn't really give viewers too much of an idea of what they can expect from "Misery Loves Company," there is one thing that that's guaranteed about the installment: lots of Coldplay. The hour will feature a few songs from the band's new album, A Head Full of Dreams, including "Adventure of a Lifetime," "Amazing Day," "Birds" and "Everglow."
"The first time I heard A Head Full of Dreams, I was blown away by every track," said Hawaii Five-0 producer Peter Lenkov. "As we started writing the Valentine's Day episode, that album basically became our soundtrack and we knew we wanted to use their music to illustrate what was happening with our Ohana. These songs were just a perfect fit."
Hawaii Five-0Â airs Fridays at 9 p.m. on CBS. Check out the sneak peeks from "Misery Loves Company" below:
[Photo via CBS]