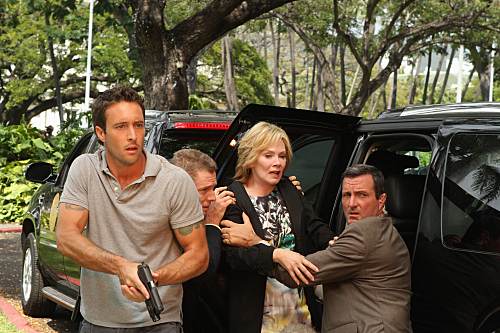 The season finale of CBS' freshman drama – Hawaii Five-0 – will be airing tonight. Things are not looking good for the Five-o gang in tonight's finale.
The team gets too close to the truth of Wo Fat and his syndicate. In retaliation, Woo Fat destroys the Five-0 team. The team is disbanded, Alex is being chased by the police and Chin is offered another job. The Governor can no longer protect McGarrett or the team and since they've been playing by their own rules for so long, there are a lot of consequences for them to face.
Will this be the end of the Five-o team?
Guest stars for the episode include: Wo Fat as Mark Dacascos, Rachel Edwards (Claire Van Der Boom), Grace Williams (Teilor Grubbs), Kamekona (Taylor Wily), Jenna Kaye (Larisa Oleynik), Governor Pat Jameson (Jean Smart), Laura Hills (Kelly Hu), Charlie Fong (Brian Yang), Dale O'Reilly (Val Lauren), Army Sgt. Gary O'Reilly (Shane Seggar), Chief of Police Mahaka (Kelvin Han Yee), Detective Ahuna (Garret T. Sato) and Sgt. Duke Lukela (Dennis Chun).
Below are promo photos and a trailer for tonight's season finale of Hawaii Five-0, beginning at 10:00 p.m. ET on CBS.
[imagebrowser id=1027 template = flipped]
clarissa @ tvovermind.com
twitter.com/clarissa373
twitter.com/tvovermind