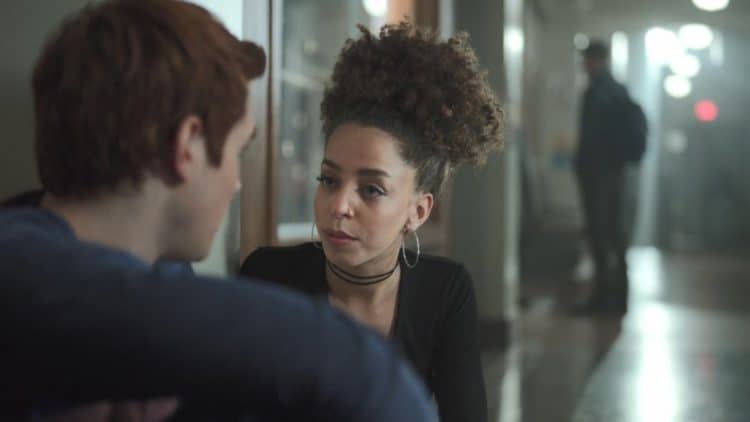 In most cases, it can take a person years for their acting career to start gaining traction, but in Hayley Law's case, she came out swinging. There aren't many people who say that their debut acting job was in a successful series, but Hayley is one of the few who can say exactly that. Her first on screen role was as Valerie Brown in The CW series, Riverdale. Since then, she has continued to earn role. Aside from Riverdale, she is best-known for her portrayal of Lizzie Elliot in the Netflix series Altered Carbon. Although most of her work has been on TV, she also has some film projects in the works. Continue reading for 10 things you didn't know about Hayley Law.
1. She Loves Romantic Comedies
Romantic comedies are one of those things that people either love or hate – Hayley Law is one of the people who loves them. In an interview with The Mary Sue, she admitted that watching so many romantic comedies over the year gave her a false sense of what romance really is. However, she added that her expectations have since become more realistic.
2. She's Canadian
Hayley was born and raised in Canada which is where she got her start in the entertainment industry. She is very proud of her home country but has since moved to Los Angeles to put herself in a better position to get career opportunities. As you can imagine, she's loving the beautiful weather that southern California has to offer.
3. She Got Her Start In Commercials
Commercials may not be the most glamorous acting jobs on the planet, but they have been a strong starting point for lots of people in the industry. Hayley got her start doing commercials and she's had the chance to work with some really big brands including McDonald's.
4. She Also Auditioned For The Role Of Cheryl On Riverdale
Playing Valerie Brown was a huge opportunity to Hayley, but that wasn't actually the only role she had in mind for herself when she auditioned for the show. She told ComicBook.com, "I actually auditioned for Cheryl as well, and I thought that would be really fun because it's not like me at all. I really liked the way that they wanted her to be bitchy, but she's still really likable sometimes. I just feel like that's so unlike me, it would be a really fun character to play."
5. She's Also A Musician
Acting has been the thing that has initially gotten Hayley the most recognition, but it's not the only thing she's good at. She is also a very talented musician. What many people don't know is that she was actually focusing more on music than acting when she first got started, but her acting career started picking up first. As a musician, she performs under the stage name Hayleau. She was extremely grateful for the fact that her role on Riverdale allowed her to incorporate her love for singing.
6. She's A Big Dua Lipa Fan
On top of her love for making music, Hayley is also a big fan of other artists and she loves to listen to their work whenever she can. Some of her favorite artists include Dua Lipa, Snoh Aalegra, and Syd. She is also a fan of old school artists such as George Michael and Diana Ross.
7. Her Mom Is One Of Her Biggest Inspirations
Many times when people in the entertainment industry as are asked who inspired them the most, they are quick to list off another entertainer. However, in Hayley's case, she sees her mom as one of her biggest inspirations. She told Nylon, "I was always looking at how my mom interacted with people. How she didn't take sh*t from anyone, and I always wanted to be like that. Inspiring then and still is!"
8. She's Learned To Embrace Her Natural Hair
Hayley has naturally curly hair and it was the cause of lots of bullying from her classmates when she was younger. As a result, she spent many years feeling lots of pressure to constantly wear her hair straightened.  She even had an ex who referred to her hair as "gross". But as an adult, she has come to see the beauty in her natural hair and she
9. She's A Big Fan Of The Simpsons
The Simpsons has entertained countless people for more than 30 years. At this point, the show probably has millions of fans who weren't even born when the first episode aired. Haley, who was born in 1992, is among those who are younger than the show itself. Still, she has a huge fan of the show.
10. She's An Advocate For The LGBT Community
Hayley became a strong advocate for the LGBT community after hearing the tragic story of a 9-year-old boy who committed suicide after dealing with bullying and negativity surrounding his sexuality. She said, "As a child in school, you really don't see LGBT acceptance that young. People need to be educated from the womb, straight up. Let kids, teens, adults be whoever the f*ck they want…."