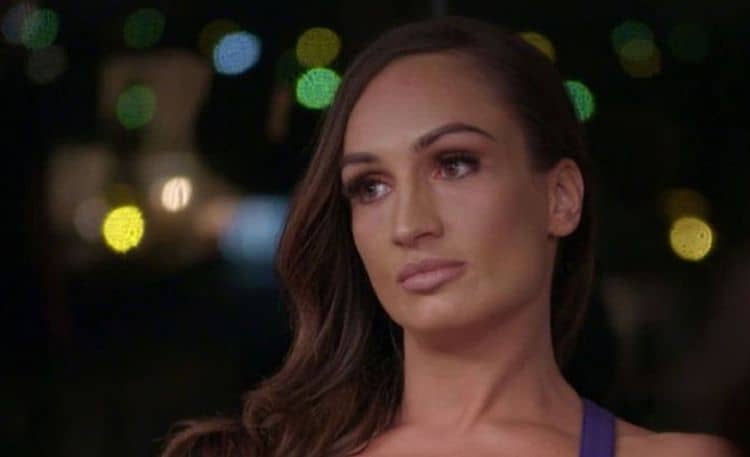 Hayley Vernon is a reality television personality who is best known for her appearance on the television series "Married At First Sight Australia." She was a bride in the social experiment who became known as one of the 'intruder' brides that showed interest in other men during the filming of the show. She has made headlines in several online gossip columns and is one of the hottest topics of conversation for the series. Here are 10 things that you probably didn't know about Hayley.
1. She is a recovering addict
Hayley Vernon entered the competition for "Married At First Sight" at age 32. She was a Finance broker from Melbourne, Vic, who brought in an annual income of $150,000 per year. She encountered some extreme personal problems at age 16. She became a drug addict. This unhealthy lifestyle continued on for nearly ten years before she decided that it was time to get clean and stop using.
2. She is searching for a very specific type of man
Hayley has a unique personality that requires a partner who can keep her challenged. She is a straight-talking woman who is into health and fitness. She turned to physical fitness and extreme workouts to help her overcome her drug addiction. It resulted in her developing larger muscles than most men have. It takes a man who has a strong sense of self-confidence, and a strong backbone to keep her challenged. She also stipulated that he must accept her for who she is without judging her for the past.
3. Her past has interfered with relationships
Hayley gave "Married At First Sight" a shot in hopes of finding the right romantic partner. Her past is not pretty and it is something that has caused problems for her in previous relationships. Her muscular physique is also intimidating for a lot of men and this has also been an obstacle in meeting men because there are quite a few who won't even give a relationship with her a consideration.
4. She left a good-paying job for the experiment and ended up as a laborer
Vernon had to leave her job as a financial broker in order to devote the required time to filming of the social experiment on "Married At First Sight." Things didn't go the way that Hayley had hoped on the show. She was kicked off the show in October without a job to return to. She had to find a way to make ends meet so she took a job with a construction company mixing concrete as the rest of the contestants carried on without her on the set.
5. Her life as a 'trady' was short-lived
A friend revealed that Hayley enjoyed the work that she was doing in construction. She had a great relationship with other members of the crew and she didn't mind getting her hands dirty doing the work. She stayed at the job from late October to ner the end of January, but then she decided to call it quits and work on other ways to earn a living.
6. Hayley is bringing in a good income presently
It didn't take long before an agent contacted Hayley and helped her get set up with a lucrative new business venture. As a reality television personality, she was somewhat a celebrity and agent Max Markson offered her a deal to earn revenue through personal appearances and a sponsored Instagram series of posts. She is highly marketable, in part, because she is such a controversial figure from the show.
7. Her earning potential has exploded
We learned that Hayley has the potential of doubling the income that she made as a financial broker. Thanks to her agent, the sponsored posts and personal appearances she is set to make can net anywhere from $5,00 to $9,000 per week with the potential for earning an annual salary of around $300,000.
8. She earned a bad reputation on the show
Hayley earned her reputation as a controversial figure on "Married At First Sight" by cheating on her television husband David with Michael Goonan, another groom on the show. David attempted to get back at her by using her toothbrush to scrub a dirty toilet for cheating on him. She attempted to stay on the show by voting to remain so she would have the opportunity to get back at him, but it didn't work out as she was sent packing. Viewers dubbed her as an "intruder" bride because she moved in on another woman's husband.
9. Hayley has a huge fan base
Some viewers were not impressed with Hayley Vernon but others became instant fans. We visited her Instagram page and saw that she has a large group of followers. There are 54.6K fans who are signed up to follow her on the page. There are 400 posts on the site and lots of great photos of Hayley and other members of the show. If you want to keep up with what's going on in her life and career, this is a good resource for it.
10. Hayley suffered emotional damage from the experiment
Vernon shared a lot of information about what went on during the filming of MAF. She explained that there were a lot of nasty scandals that the network covered up and that producers for the show used 'dirty tactics' as reported by other cast members. She failed to support the claims that they made, but did admit that she needed to seek the assistance of a mental health therapist to deal with her own emotions after ending her time on the show. She doesn't blame the network for the things that went on, nor does she agree that there were any coverups. She doesn't feel that she was in any way mistreated by producers or the network.