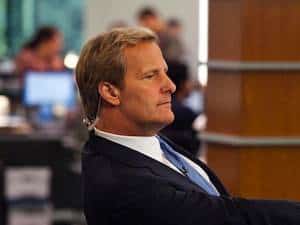 HBO has announced the renewal of two shows: newly premiered The Newsroom and veteran hit True Blood.
Created by Aaron Sorking and starring Jeff Daniels, The Newsroom premiered to varied critical reviews. Some praised the drama, set two years ago and centering on Daniels' Will McAvoy, an anchor who is trying to deal with the changes in the news industry. After only two episodes, the cable channel has decided to order The Newsroom for a second season, although we're not yet sure when the next season will premiere.
Meanwhile, in a movie that should surprise no one, HBO has renewed True Blood for a sixth season. Its fifth season premiered a few weeks ago and included the arrival of some new faces, including Christopher Meloni as a vampire in his first regular role after leaving Law & Order: SVU. The sixth season of True Blood will likely premiere in the summer of 2013.