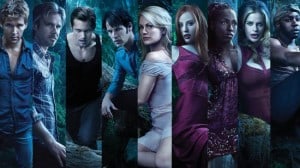 Anyone who has been losing sleep over the fact that they thought their favorite HBO vampire drama, True Blood, was about to get a proverbial stake in the heart, you can breathe a massive sight of relief today, because it has been announced that HBO will be renewing the vampire show for a seventh season. While fans of the show are not surprised, saying this season has been one of the shows strongest in some time, there were a few people who thought the show may have been running the risk of being canceled, but not for these blood suckers.
What some people seem to lose sight of is that the series is actually based of a long running series of books by Charlaine Harris, also known as The Southern Vampire Mysteries, of which there have been thirteen books thus far. And with the show bringing in a reported ten million viewers per episode, it is safe to say they have a lot of material to pull from, and a big enough fan base that the show probably isn't going to be vanishing, anytime soon.
But with the overall hype surrounding vampires starting to die down in a post-Twilight world, it becomes harder and harder to see what will be in store for True Blood in the next season and a half, but you know we will be here, to bring you all the info as soon as get it for now.
And for now, rest assured, you will be spending more time with Sookie Stackhouse and the gang next fall.