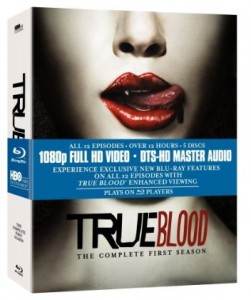 HBO is beginning to generate buzz for the upcoming release of True Blood on Blu-Ray. Like many recent Blu-Ray titles, True Blood really shows off what the format is capabable of as a premium viewing platform.
HBO is taking a bold step by allowing HBO on-demand customers the chance to watch an episode of True Blood with all of the Blu-Ray enhancements. Personally, for us Time-Warner bound souls this isn't truly a look at Blu-Ray since we only have 1080i upsampling of 720p streams.
None-the-less, here is what True Blood fans can look forward to when the content goes live, courtesy of HBO.
Beginning May 4, and throughout the month on HBO On Demand, viewers will be able to watch the entire first episode from Season One in 'True Blood Enhanced Viewing'mode, amplifying their experience with four types of original, interactive picture-in-picture, pop-up features that will be showcased throughout the DVD:
– Lafayette — viewers can get the scoop on everyone in Bon Temps with True Blood's flamboyant and outspoken Lafayette, who dishes up everything from secrets about Tara's crush on Jason to the history of the Stackhouse family.
– Vampire History — viewers intrigued by the vampire characters can learn more about how their favorites were 'made.'
– Hints and FYIs — viewers get to unravel the mysteries surrounding the entire series through helpful hints and FYI pop-ups.
– Animated Maps — viewers get to explore colorful locations in Bon Temps through animated maps.
–
Available in stores May 19, TRUE BLOODSM THE COMPLETE FIRST SEASON BLU-RAYâ"¢ DVD will offer all 12 episodes in True HD 1080p video and DTS-HD master audio, allowing viewers to engage with storylines, characters and themes of the show on a higher level through the 'Enhanced Viewing'mode. Along with the exclusive features listed above, Blu-ray bonus materials include a documentary that chronicles the integration of vampires, 'Tru Blood'beverage ads that market the synthetic blood to 'out of the coffin'vampires, and 'Vampire Rights'PSAs.