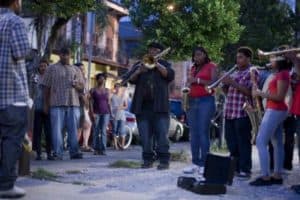 When HBO had a mass comedy cancellation in December, Boardwalk Empire was left without a leadout, as Hung and How to Make It in America were casualties of the channel's changing direction. With The Newsroom slated to be the last big premiere of 2012, moving a current show behind the critical darling seemed likely and that, according to Nola.com, is good news for Treme.
Though not confirmed by HBO, it's being reported that September 23rd or 30th will see the return of the New Orleans-set drama, its first season airing in the fall. Treme may be airing with Boardwalk, winner of eight Emmy awards last year and improved reviews for its second season, but the latter will be returning first; therefore, it seems likely that the 23rd will see the return of the Prohibition drama, with Treme following on the 30th. However, last year, HBO confirmed its fall premiere dates in late July, so there's still time for plans to change and shows to be moved around.
The only piece remaining in the HBO fall puzzle seems to be Enlightened, which doesn't yet have a show to air with. With HBO's other low-rated, critically-loved show getting a major fall showcase, the dramedy may end up stranded by itself on another night for its recently wrapped second season. The move for Treme, meanwhile, is a good way for the show to get a bit more publicity than it had for its first two seasons, though it'll have much more competition in the increasingly swamped Sunday at 10:00 timeslot.
The third season of the show, which is said to have a planned four season arc, will have 10 episodes and follow Janette, Toni, LaDonna, Davis, the Lambreaux family, and many more in their continued journey of rebuilding their lives and their town following Hurricane Katrina.
Do you think Treme and Boardwalk Empire will be a good pairing? If not Boardwalk, which HBO show should Treme have been paired with? Are you looking forward to the third season?