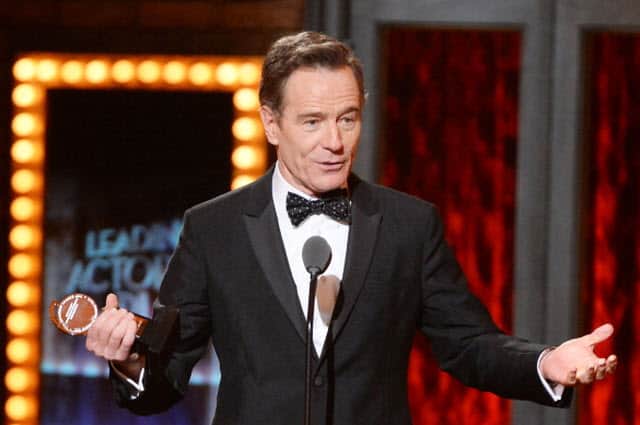 Naturally, Bryan Cranston's first starring role after Breaking Bad is also a hit for him, even if it is a play. For months now, Cranston has starred as President Lyndon Johnson in the play called All the Way, which has earned a Best Play Tony and a Best Actor award for him.
Now, it seems that HBO has managed to get their hands on the rights to the play, and will be turning it into a film, keeping on Cranston as LBJ himself. Steven Spielberg's Amblin Entertainment will be producing. Â Here's what it's all about, in case you haven't seen it for yourself:
"All The Way gives a behind-the-scenes look at Johnson's tumultuous first year in office as he takes the oath in the wake of President Kennedy's assassination, navigates the escalation of the Vietnam War, and balances opposing interests to launch his landmark civil rights bill and win election to his first full presidential term. Cranston, again nominated for an Emmy for his acclaimed performance on AMC's Breaking Bad, will soon begin production on Jay Roach's Trumbo in the title role of Dalton Trumbo, the successful Hollywood screenwriter whose career came to an end when he was blacklisted in the 1940s McCarthy era for being a Communist."
Sounds like it's going to be another great HBO film, which has produced top notch moviegoing experiences despite never making it to theaters. And Cranston continues to be on a rocket ship to the stars, with surely yet another Emmy win coming in the wake of the final season of Breaking Bad.
[Photo via Getty Images]