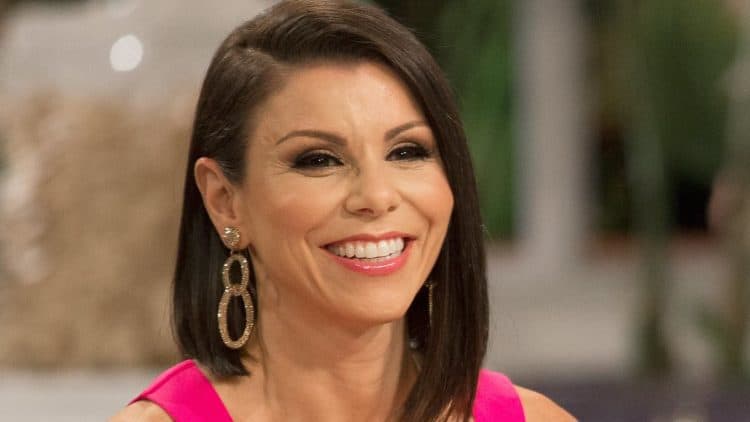 Heather Dubrow is the type of person who is known for a few different things. If you watched a lot of TV during the 90s, you may remember her from her role as Lydia DeLucca  in the TV series, That's Life. If you're a reality TV fan, you'll likely remember her from the time she spent as a cast member on The Real Housewives of Orange County. Some may even know Heather best for being married to famous plastic surgeon, Terry Dubrow. No matter what you know Heather for, there's no denying the fact that she has has quite an interesting journey, and it's not done yet. Continue reading for 10 things you didn't know about Heather Dubrow.
1. She's A New York Native
Los Angeles is the city people most commonly associate with Heather, but she's actually from the east coast. She was born in the Bronx and raised in a small town in New York state called Chappaqua. She went on to attend and graduate from Syracuse University.
2. She Cried A Lot During Her Time On RHOC
Being on a reality TV show may seem like all fun and games, but having your personal life thrown in front of the public eye isn't an easy thing to deal with. Since leaving the show, Heather has confessed that her time on RHOC was accompanied by a lot of tears. She admitted that it wasn't easy dealing with all of the things people had to say about her while also having to worry about which of her segments the network would choose to air.
3. She Might Make A Return To Reality TV
It's been four years since Heather departed from RHOC, and she has already shared that she has no plans to ever return to the show. But that doesn't mean that reality TV as a whole is completely off the table. During an interview with NECN, Heather said that she and her family would consider the possibility of having their own reality show some day.
4. She Met Her Husband On A Blind Date
There are lots of people who seem to think that Heather and Terry met during a plastic surgery consultation, but she has set the record straight and clarified that the two actually met on a blind date set up by a mutual friend. She also adds that she love at first sight.
5. She's Moving To Idaho
Let's be honest, Idaho is one of those places that seems incredibly random to anyone who isn't from there. However, it's about to be the Dubrow family's next home. Heather and Terry are in the process of building a lake house in Idaho and the couple is excited about getting the chance to experience life in the midwest. That said, however, they won't be abandoning California completely as Terry's plastic surgery practice is located in Newport Beach.
6. She Hosts A Podcast
Heather has remained busy since leaving RHOC. She currently hosts a podcast titled Host of Heather Dubrow's World which is available on all major streaming platforms. Her teenage daughter, Max, has been following in her mother's footsteps with her own podcast called I'll Give It To You Straightish.
7. She Has Been Supportive Of Her Daughter Who Came Out As Bisexual
In July 2020, Heather's daughter, Max, came out to the world as bisexual in a post on Instagram. The decision probably wasn't easy for the teen – especially due to the fact that her parents are both public figures, but Terry and Heather have been nothing but supportive.
8. She Loves Fashion
If there's one thing no one can ever say about heather it's that she doesn't know how to dress. She has always loved fashion and she has a great sense of style. She loves putting together outfits for any occasion and her closet is full of clothes from some of the most expensive brands in fashion.
9. She's A YouTuber
Sometimes it can be hard keeping up with reality TV stars once a show, but Heather has done her best to make it easy for people to find her. She has a YouTube channel where she uploads a variety of videos including vlogs and behind the scenes glimpses into her life. Although it's been a while since she's uploaded anything new, Heather's channel has more than 19 million total views.
10. She's An Author
Heather and her husband aren't just a couple, they're also business partners who have worked on lots of projects together over the years. In 2018, they released their first book together, The Dubrow Diet : Interval Eating to Lose Weight and Feel Ageless. They released another book in 2020.