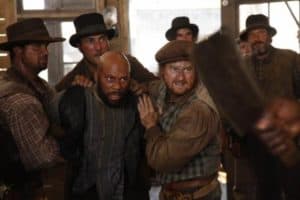 Deadline is reporting that AMC has renewed Hell on Wheels for a second season. The western drama, which has seen its ratings fall in recent weeks, is currently on hiatus for the holidays and will begin airing the final three episodes of its first season on January 1st at 10:00. No word on how many episodes or a possible air date for season 2, but it'll likely consist of 10 more episodes premiering in fall 2012.
Starring Anson Mount (Crossroads), Hell on Wheels follows Confederate soldier Cullen Bohannon, a man on the hunt for revenge against the Union soldier that killed his wife. The series also looks at the formation of the First Transcontinental Railroad, focusing on Thomas Durant's (Colm Meaney, Star Trek: The Next Generation) Union Pacific, with both main plotlines offering their fair share of collateral damage. Moreso once Bohannon and Durant cross paths, with the latter offering the former a job as cut crew supervisor. The show also stars Common (Just Wright) as a recently freed slave that doesn't back down from anybody, Dominique McElligott (Moon) as the widow of a surveyor and the key to the railroad's completion, Ben Esler (The Pacific) as an opportunistic Irish immigrant, and Tom Noonan (Heat) as a reverend pushing for peace between the Indians and whites.
Hell on Wheels airs Sundays at 10:00 on AMC. Check out a sneak peek of the upcoming eighth episode, where Durant slips further into self-preservation mode and keeps moving the chess pieces at Hell on Wheels around to do his bidding. Leading into the episode will be a marathon of the first seven episodes, beginning at 3:00 PM.
What have you thought about Hell on Wheels thus far? Do you think AMC should have kept airing it with The Walking Dead? Where do you think the show will go in season 2?