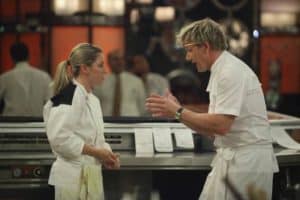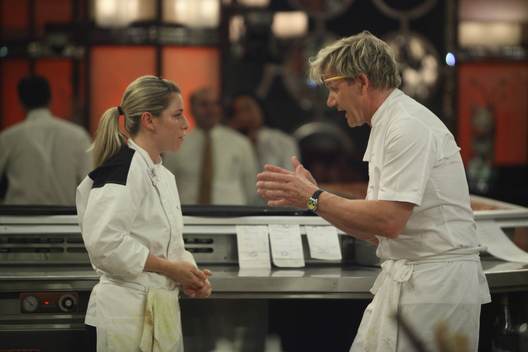 After being left with a serious cliffhanger last week on Hell's Kitchen that left me yelling "no!" at my television in a true Dana-like fashion, tonight we will finally find out which of the contestants will make it to the final two, landing them a place in the finale.
On last week's Hell's Kitchen, the final four chefs were given the task of creating a high quality dish for under fifteen dollars. The contestants were judged on the taste and presentation of the dish and given an average price of how much it would be worth in a fine restaurant.  An ever confident Justin crashed and burned a bit with a chili shrimp entrée, while Barbie scored surprisingly well with a pork chop and sausage. Christina impressed some, but not others with swordfish, while Dana took home the win with a panko and herb crusted halibut.
Later that night at the Hell's Kitchen dinner service, Chef Ramsay informed the contestants that they would be taking turns running the pass in order to demonstrate their leadership skills. Justin started off the service and had no problem being assertive and commanding the kitchen. Dana, who apparently doesn't always take direction well from her peers, seemed to be displaying a less than stellar attitude to which Chef Ramsay basically said to lose or get out.
Dana was next up to run the show, and got off to a bit of a rocky start. She struggled to be heard and take control; however, she did eventually seem to get it together. Unfortunately for her, she missed the sugar that Ramsay slipped into the risotto, leaving her score on the quality control test a big round zero. Barbie, on the other hand, surprised the bunch; doing a decent job running the pass, even catching the quality control switcheroo put out by Chef Scott when he sent her celeriac mash instead of mashed potatoes (would it really be that hard to catch?).
Last to take her turn at running the pass in Hell's Kitchen was Christina, who had never had a problem asserting herself in the past, however, her attempt to maintain her BFF status with Dana while commanding the kitchen brought some serious criticism from Chef Ramsay. Once she realized that she had to leave friendship at the door, Christina jumped into powerhouse mode, pushing the other chefs to get their food out on time and correctly.
After dinner service, Chef Ramsay informed the group that two contestants would be leaving Hell's Kitchen that night.  Despite Dana's nomination for elimination from her fellow chefs, Ramsay announced that Barbie would be the next contestant heading home. Chef Ramsay then prepared to announce the final two contestants, but despite those giant banners hanging there waiting to be dropped, Fox played a dirty trick and slapped a big fat "to be continued…" up on the screen, forcing us to wait until tonight to find out the finalists.
Tonight on the first part of the two part season finale of Hell's Kitchen, we will finally find out who made it to the final two .   For the finale, the finalists head to Las Vegas, where they hope to win the top prize of becoming the head chef at Gordon Ramsay Steak. These two chefs will have the monumental task of creating their final dinner service menu and having it judged by a group of world renowned judges, including Wolfgang Puck.  The pressure is on for two of these contestants and only one can be named the winner of Hell's Kitchen.
Read my predictions on who will be in the finale and even who will take the prize in the Hell's Kitchen forum. Be sure and add your own thoughts and predictions!
The two part season finale of Hell's Kitchen airs tonight at 8/7c on Fox.