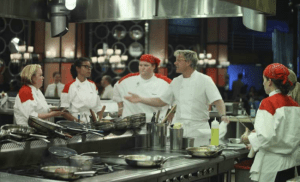 It was a night filled with high fashion and even higher tension on last night's episode of Hell's Kitchen in which the 13 remaining contestants continued to fight to earn the head chef position at Gordon Ramsay Steak in Las Vegas.
At the first ever fashion night at Hell's Kitchen, contestants were tasked with not only completing a well cooked dinner service for A list guests, but they had to do so with great efficiency so that it would time perfectly with the phases of the fashion show itself. Immediately following Chef Ramsay's lecture on the importance of timing for the evening's service, Clemenza, over on the blue team, is seen manically beginning to cook scallops, all before anyone has even entered Hell's Kitchen, which doesn't bode well for how their dinner service is going to turn out.
Over on the red team, Barbie and Tiffany refuse to communicate in anything other than snarky comments, getting them off to a rocky start with appetizers as well. After a few rejected scallops and some heavy nagging by Robyn to help where she's not needed, the women fall into a bit of a groove and successfully put out their appetizers for round one of Hell's Kitchen's fashion night.
During round 2 of Hell's Kitchen's fashion night, the teams worked to put out the entrees as quickly as possible, which resulted in Robyn, over on the red team, overcooking much of her beef. Despite her efforts to get her teammates to steal a couple of steaks from the blue team, they refused and she had to face the wrath of Ramsay. Over on the other side of Hell's Kitchen, the blue team found itself falling into a stereotypical role of men everywhere, focusing more on the catwalk models than their entrees, with Guy even failing to notice his pan literally on fire.
In the end, the women took home the win for Hell's Kitchen's fashion night service, finishing a full ten minutes ahead of the men. At elimination, Clemenza and Guy were nominated by their fellow team mates, despite both of their efforts to avoid it. Clemenza's passion and fight impressed Chef Ramsay enough to send him back in line, therefore sending Guy packing.
On tonight's episode, the remaining 12 contestants duke it out to see who will go home and who will live to see another day in Hell's Kitchen.