It's down to the final four on Hell's Kitchen and with only tonight's episode between us and the two part finale; it's time to start making some serious predictions.
Last week saw the predictable departure of Clemenza when he tanked what should have been his night to be on top: Italian Night. Although he claimed to cook chicken parmesan much better than Chef Ramsay (please!), the marinara sauce that he said was running through his veins must have clouded his focus because he couldn't remember an appetizer order to save his life. Despite Barbie's multiple botched risotto orders, Chef Ramsay sent Clemenza packing from Hell's Kitchen pointing out that he had been in the bottom two an unprecedented seven times.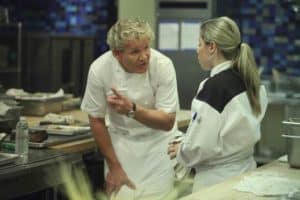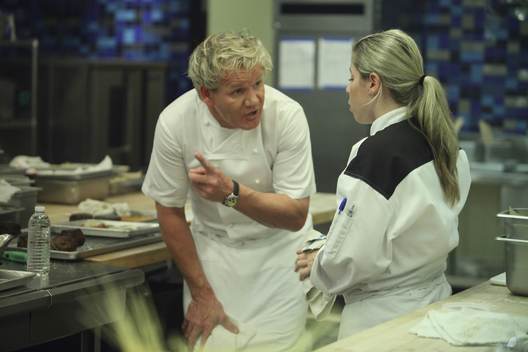 Tonight on Hell's Kitchen, the final four each take a turn at running the kitchen in order to demonstrate to Chef Ramsay their leadership capabilities. With only four remaining contestants, the pressure is on to make it to the finale with a chance of becoming the next head chef at Gordon Ramsay Steak in Las Vegas and some seem to be handling it better than others. In theory, tonight's dinner service will determine which two chefs will be the remaining two contestants standing at the end, although in reality, it's been a work in progress throughout the entire season. So who will it be waiting behind those frosted doors on finale night? I think we can make some definite predictions.
Barbie seems to be the obvious choice for the next contestant heading home from Hell's Kitchen. She was on the chopping block last week and if it Clemenza hadn't been such a repeat offender, would have gone home for certain.
Next up I would have previously easily said Dana would be the one to get the boot, however, Chef Ramsay has been giving her a bit of extra attention and pep talks in the recent weeks, leaving me to wonder if he see something in her that he likes. She could wind up the dark horse that nobody saw coming if she plays her cards right.
Based on previous dinner services, in the end, I'm going to stick with my gut and predict that we will see a Christina Justin finale. We'll find out for sure when Chef Ramsay announces, or rather drops giant banners with their faces on them, the finalists on tonight's episode.
Have any predictions of your own for who will be in the Hell's Kitchen finale? Share your thoughts and join the conversation here.