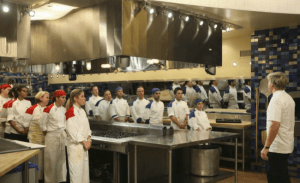 Last week on Hell's Kitchen: what started off like every episode turned into a three-parter that will (hopefully) end tonight with the elimination of one of the final 13 chefs remaining in the competition.
In what might have been the most pretentious cook off of all times, the contestants were tasked with creating dishes to suit Hell's Kitchen's first ever fashion night. Judging the dishes were three individuals from the fashion industry who seemed to believe they also had a deep knowledge of food presentation. As the chefs each brought up their dishes to be tasted, the judges criticized with wrinkled noses the lack of beauty in the presentation, the (gasp!) greasiness of the food, and the absence of spice and robust flavor. In the end, the blue team sealed the deal and won the challenge, leaving the women to set up Hell's Kitchen for fashion night while the men were rewarded with new clothes and wine tastings.
On tonight's episode of Hell's Kitchen, the red and blue team will battle it out to see who can pull off a winning service during fashion night. With Clemenza feeling the pressure to excel since his dish on the night's menu, he seemingly jumps the gun and begins cooking scallops before any orders have even come in. On the red side of Hell's Kitchen, the women come up short on beef and decide to resort to sabotage by stealing two steaks from the men's side of the kitchen, which does not go over well with Chef Ramsay.
Between the large amount of cooking errors and just plain poor errors in judgment, it's anyone's guess who Chef Ramsay will send packing on tonight's episode of Hell's Kitchen. One thing is for certain, at this point in the game, a few contestants should be starting to emerge as stand outs to possibly claim the prize of head chef at Gordon Ramsay Steak in Las Vegas. With the performances so far on this season of Hell's Kitchen, however, Gordon Ramsay Steak might be better off putting an ad in the paper for their head chef.
Hell's Kitchen airs Mondays and Tuesdays at 8/7c on Fox.