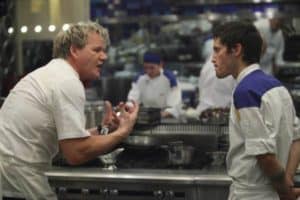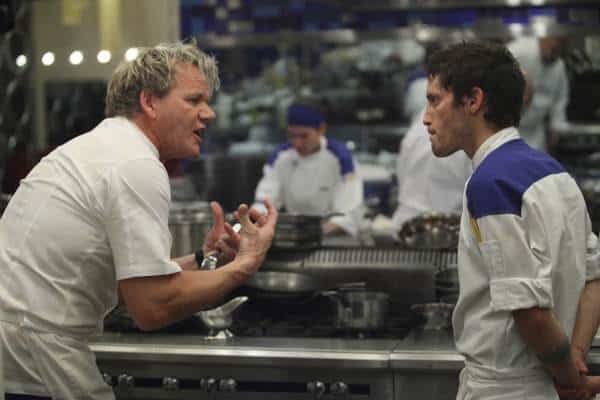 Say it isn't so, Chef Ramsay! Last time on Hell's Kitchen, Robyn dodged yet another bullet and managed to earn herself a black jacket along with the five other remaining contestants.
So how did this happen, you ask?  Well, apparently Chef Ramsay's dislike for badly timed jokes outweighs his dislike for whining and badly timed garnishes. Let me explain.
During the night's Hell's Kitchen dinner service, the red team got by with very few errors.  Barbie, who is clearly not wanted by her teammates, was determined to contribute and repeatedly asked Christina to help out with appetizers.  Christina, who was equally determined not accept Barbie's help, refused, only have her first risotto orders be sent back.  After that minor setback, however, the red team moved forward and successfully completed their dinner service with high praise from Chef Ramsay.
Over on the blue side of Hell's Kitchen things did not go quite as well. Robyn was caught keeping her spinach garnish warm in the oven, which she justified by explaining that her teammates told her it was the "warming oven."   This sent caused an uproar with the men who adamantly denied telling her any such thing.  Not that I could blame the guys if they wanted to mess with Robyn, but since everything in that kitchen is on tape and there didn't seem to be any footage of this "warming oven" convo, I'm going to have to operate on the theory that she made it up.
After Brian tried to serve a burned piece of catfish, an extremely irritated Chef Ramsay made him taste it and asked him what it tasted like to him.  Brian, who either has very bad comedic timing or whose brain stopped functioning temporarily, answered with, "It tastes like fish, Chef."  Needless to say, big mistake…and Brian was sent temporarily out of the kitchen. When he returned, he repeatedly sent up overcooked Wellingtons, leaving Chef to summon Barbie to come finish the job for Brian.
When dinner service was finally complete, Chef Ramsay rewarded the red team with the coveted black jackets that the contestants had been waiting for. As the three red team mates celebrated, the blue team was tasked with choosing two of their own to be put up for elimination.  After much deliberation, the only nominee they could come up with was Robyn (go figure).  Back in Hell's Kitchen, they tell Chef Ramsay they couldn't agree on a second nominee, prompting him to bring the entire blue team forward for consideration.  In the end, Chef narrows it down to Robyn and Brian, getting my hopes up only to smash them by sending Brian packing.
Tonight on Hell's Kitchen, the newly unified black team goes up against a mystery team that Chef Ramsay brings in.  Tensions run high as the remaining six contestants struggle to learn to work together. Who will go home on the first night of black jackets?  Please, oh please, let it be Robyn.
Hell's Kitchen airs Mondays at 9/8c on Fox.