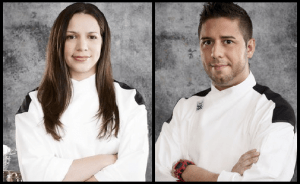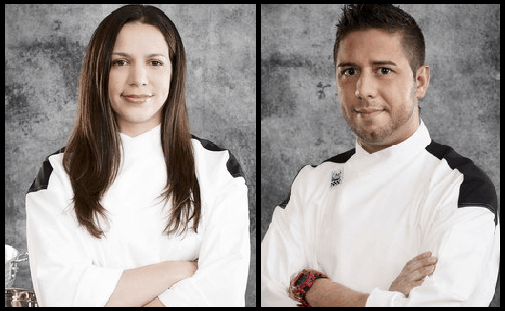 It's been a long road to the end filled with plenty of drama and botched risotto, but tonight it all comes down to the final dinner service in which Justin and Christina will battle it out in attempt to become the season 10 winner of Hell's Kitchen. On the line is not just bragging rights to the title of Hell's Kitchen champion, but the winner will also earn the head chef position at Gordon Ramsay Steak in Las Vegas.
On last week's part one of the Hell's Kitchen finale, Justin and Christina began their celebration as the two finalists by heading to Las Vegas for some R & R. Not one to let them get too comfortable, Chef Ramsay quickly put the pampering to an end when he sprung a cooking competition on them in the middle of a Penn and Teller show. For this challenge, the finalists were to each cook five different items from the Gordon Ramsay Steak menu with a touch of their own flair and present the dishes to the judges.
Judging this impromptu competition were a panel of extremely reputable chefs including the world renowned Chef Wolfgang Puck. Things started off a bit rough for Christina, with Justin taking the first two rounds of the challenge, but she quickly pulled up the rear tying it up with her port wine rib-eye. Â As the tie breaker, the two finalists presented their versions of filet to Chef Wolfgang Puck, who in the end, said he had to go with taste over presentation, thereby declaring Christina the winner.
After the competition, Justin and Christina prepared to head back to Los Angeles, but not before getting one last surprise from Chef Ramsay. Their former team mates and sometimes friends had gathered in Las Vegas so that the finalists could select their team for the final dinner service. As the winner of the previous cooking challenge, Christina got first pick to which she obviously selected Dana.  As Justin's first pick he selected Barbie due to her track record cooking meat, leaving BFF Brian to look a bit disappointed that he wasn't first on Justin's list.
After the initial selections, Justin and Christina continued to choose their team members in a manner that was fairly predictable to everyone except Clemenza, who continued to declare that he was the best chef there.  As the final default pick (even Robyn got picked over him!), Clemenza very bitterly joined Justin's team and pretty much immediately made it clear that he had a chip on his shoulder. After ignoring Justin's instructions and refusing to listen, Justin told Clemenza to either get on board or get out, which prompted Clemena to declare that he was done with the competition.
Tonight on Hell's Kitchen, Justin and Christina duke it out at the final dinner service, each attempting to prove to Chef Ramsay that he or she is the best one for the job of head chef at Gordon Ramsay Steak. With Justin potentially down one team member and Christina trying to reign in Robyn, they each have their hands full to pull off the most important dinner service of their lives.
Who will come out on top to be the next winner of Hell's Kitchen? I've got my opinion, but I want to hear yours! Share your thoughts on the Hell's Kitchen forum and tell us who you think will be crowned the winner tonight.
Be sure and check back Wednesday for my exclusive interview with tonight's Hell's Kitchen runner-up and get the scoop on what really went down this season.
The Hell's Kitchen finale airs tonight at 8/7c on Fox.