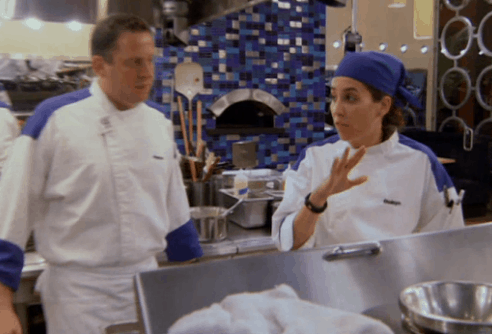 Tonight on Hell's Kitchen we watch as the remaining eight contestants battle it out to try to win a spot as the head chef at Gordon Ramsay Steak in Las Vegas. At this point in the competition, you would think that, while they may not all be head chef material, the remaining contestants are at least competent cooks and semi-professional if they are to be actual contenders for such a high profile position, however, you would be wrong this season to make such assumptions.
I can't watch Hell's Kitchen week and after week and not finally ask the one question that is my head after every episode: What the heck is Robyn still doing there? The only thing I have truly seen her create this season with any success is drama. She continues to offer up lack luster ideas and causes problems no matter which team she is on. The final straw for me came last week after the blind taste test challenge when she literally got zero correct. Really? Zero?
Robyn isn't the only offender of cat fights in the Hell's Kitchen competition, with Kimmie and Barbie falling in at close seconds, but they, at least, have offered up some quality dishes at times. It is also worth noting that the arguments that these two get involved with seem to typically involve the Hell's Kitchen main offender: Robyn. Which brings me back to my point that she needs to go home.
Beyond my issue with Robyn still remaining in the competition, there are a few bright stars that seem to actually know what they are doing in the kitchen. Dana and Christina from the red team have mostly good days and show actual promise. Justin, from the blue team was a virtual super star at the blind taste test nailing all five of the ingredients including the sun choke, leaving me to immediately pull out my phone and Google 'what is a sun choke?'(It's a root vegetable like a potato) I have to imagine that these are the chefs we are going to see in the final three, if there is any justice in Hell's Kitchen, that is.
After Tiffany's very necessary elimination last week, the red team and blue team are on equal footing with four chefs each. This week on Hell's Kitchen, Ramsay decides to take on southern cuisine in his restaurant, tasking the remaining eight contestants to put a fine dining spin on down home cooking, which may prove to be a bit of a challenge for some of the chefs, earning one of them a one way ticket out of Hell's Kitchen. You know who gets my vote.
Hell's Kitchen airs Mondays and Tuesdays on Fox at 8/7c.