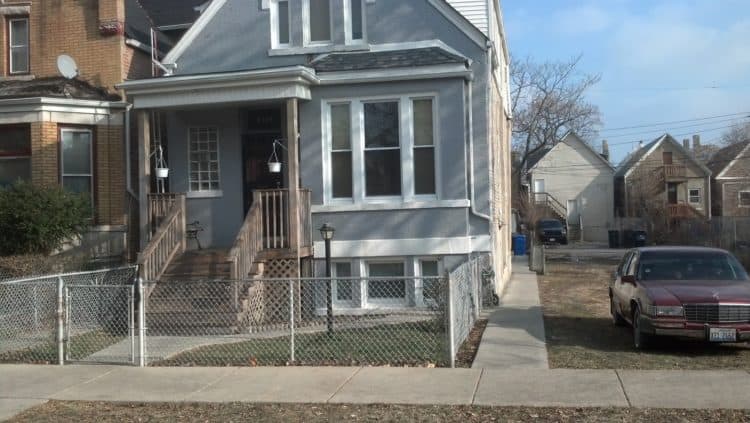 Remember stories about the Goonie house in Astoria, Oregon? Well, the house had to be considered off limits back in 2015 due to fan fatigue as well over a thousand people were milling about in the neighborhood and the owner of the home and the neighbors had had enough of it, according to Erick Bengel of The Astorian. If you do decide to make your way to Chicago's south side where the Shameless house is located, be sure to remain as respectful as you can and don't linger too long since like it or not this isn't a sound stage and it's not a 24/7 tourist attraction that people can climb all over and use as their personal playground. Oh, and don't go thinking that the Gallagher's are just going to show up unannounced from time to time; they typically don't visit the house unless they need to shoot a scene from the outside of the house, and typically you can bet that it's a closed set during those moments.
As Gabrielle Bernardini of Distractify puts it, the owner is actually pretty cool with the whole idea of people coming around and taking pictures, though it shouldn't need to be said that people need to respect the owner's privacy and not take her kindness for granted. Lip and Fiona won't be there so don't ask, since most of the shots take place on a sound stage anyway, but the experience of seeing the house is something that a fan couldn't possibly deny is worth the effort to make a trip to the south side. Depending on where you live in the US it might be quite the trip just to see the Shameless house, but at least while in Chicago there are plenty of places to see and things to do, so this could be just one stop that a person might want to think about for a few minutes before making their way back into the other parts of the city. It definitely seems as though it would make a great picture for any fan that wants to say 'I've been to the Gallagher house'. While some folks might not have a clue what in the hell you're talking about, a real fan of the show would still see it as a prize, much as any Goonies fan would see getting their picture taken next to the house in the same light.
It's kind of amusing watching fans that get so into a story that they want to go to certain spots and see specific areas where a character did this, where a situation happened, or even just visit a city where a movie or TV show was shot to say they've been there. Fans are sometimes a weird bunch as a lot of us should know by now since we tend to value certain things in the entertainment industry in a way that's almost manic at times and downright disturbing at others. When pulling back just enough to take a realistic look at the movies and TV shows that we idolize so much it's enough to make us wonder why since some of the characters we enjoy are some of the worst people to ever be created, like Frank Gallagher. While you can't say that the family as a whole are a band of angels, Frank is by far the worst and has been on a path of destruction for a while now. It's interesting to see such a character survive for so long since any other character that William H. Macy has played has either seemed like someone's kind father or grandfather compared to Frank, who's frankly too lucky for anyone's good since he's been through some truly scary times and has still managed to come through them intact and in one piece, more or less.
But that's the great part about Shameless really, the Gallagher's are a bunch of societal rejects that have someone survived for this long and have somehow kept from killing one another to create a family unit that is far from perfect, in fact far from stable most times, and yet have still continued to stand up for one another no matter what. They've had their differences, quite a few of them in fact, and they've all had their problems, which are hard to count, but they're still a family throughout all of it. Is anyone scratching their head as to why at this point? Honestly, the only correlation I can think of would be the Bundy family from Married With Children, they stay together because misery loves company. Just remember when visiting though, show the proper respect, otherwise the Shameless house could be off limits at some point too.