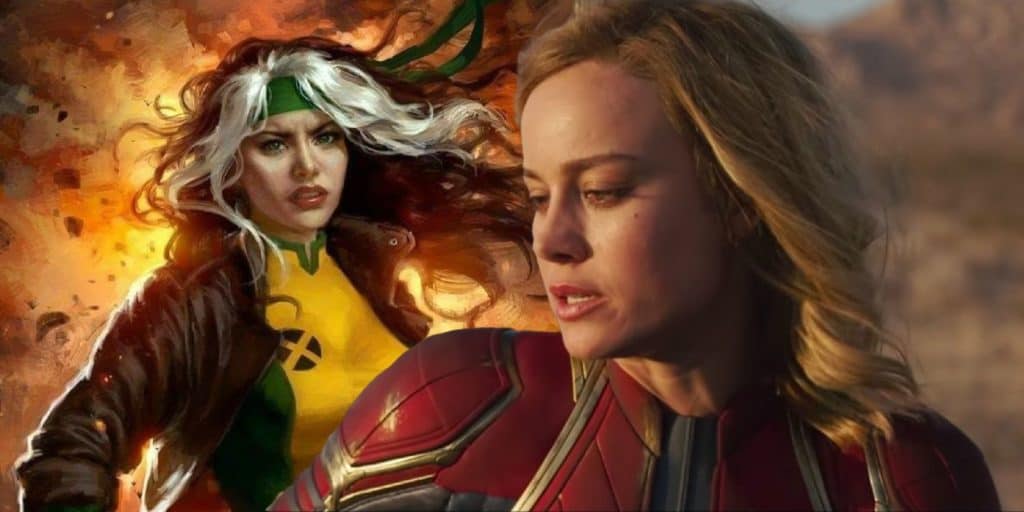 It's not likely that Rogue is bound to be the main antagonist in Captain Marvel 2, but it does feel as though the connection that she and Carol Danvers share should be explored since it could be highly beneficial for the MCU and for both the Avengers and the X-Men. The explanation of their connection is pretty simple since Rogue, who was working for Mystique at the time, was tasked with taking on Ms. Marvel, aka Carol, and ended up doing more than she bargained for since by now a lot of people know her mutant power and what it does. But instead of the temporary loan that usually happens when she siphons the abilities of her intended target, Rogue actually absorbed Carol's powers and her memories. This was a problem later on since it created a serious issue in Rogue's mind since the memories of Carol Danvers started taking over and vying for control of her mind. 
In the meantime, Carol actually felt that she'd lost her powers and went through a rather long bout of depression that wasn't really alleviated until Professor X found a way to retrieve her memories and she'd joined the Starjammers, a cosmic-based group that she went with for a while. But it's fair to say that there was a lot of animosity between the two women for a long while, especially when Carol saw that the X-Men had allowed Rogue into their ranks on the basis that she'd changed and had become a superhero. It makes sense that this would irk someone that had experienced such a dire situation with the same person that people now looked up to, but the feud between these two wouldn't die out for a while. As of now though it feels that adding Rogue into the next Captain Marvel movie would be a great idea since not only would it give Carol another arc that would strengthen her character, it could also act as another anchor point for the X-Men before they're actually brought into the MCU. 
The big question though is who the main antagonist will be for Captain Marvel since the sad fact is that Mystique, despite her espionage skills and power to morph into anyone, isn't in Carol's league. Rogue is only capable of taking her on after having drained her power, so Mystique is kind of out of luck. There are plenty of villains in the Marvel Universe that would gladly stoop to using a power-siphoning individual like Rogue to do their dirty work though, so it's fair to think that Rogue is going to be treated like a weapon to aim at Carol and instigate a fight right before stealing her power and leaving Carol feeling helpless. From there it feels as though Rogue's story should be revealed to be that she has no real choice over what she's doing since the person in charge of her is pulling every string. Whatever leverage the individual has on her though would have to be pretty strong since Rogue is pretty deadly when she's underestimated, as she can absorb pretty much anyone's power and turn it on them, at least for a short while. 
But this is also an important factor due to the idea that Rogue gained a few of her powers from draining Carol a little too much, meaning that the powers stuck with her for a while, and in some cases for years on end since her character has been seen to be able to fly, show incredible durability, and the kind of strength that makes it obvious that she's not a pushover. She's been a powerhouse for the X-Men for years now and would be a formidable opponent for Carol. How they might meet is hard to say, but there's definitely a way to put it in the script and make it work. 
While it doesn't sound like the X-Men will be getting their own movie until phase 5, it does sound as though the idea to bring in a few of the characters here and there might be something that directors are open to since it could make a lot of sense given that they won't need a huge introduction when the team is finally brought on board in an official manner. Rogue being one of the first to be presented would be fun since the Southern belle has been a fan favorite for a long time now and is one of those that might not be known to every movie fan out there, but is a character that helped to bring the X-Men to Fox decades ago thanks to Anna Paquin. Whether or not she would take up the role again is kind of hard to say, but if she doesn't then it's on the studio to find someone that can take her place and do just as good of a job.