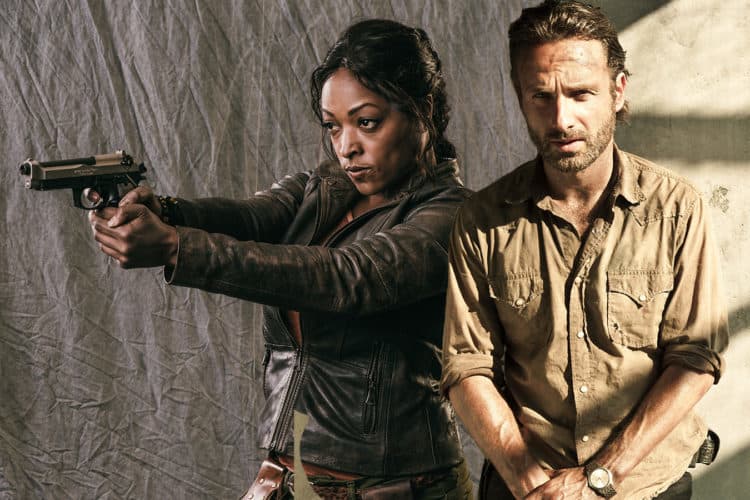 Ryan Scott of MovieWeb is just one among many people that were likely excited to hear more information about the upcoming Walking Dead movie featuring Rick Grimes. What's known so far is that the movie is happening and that things are moving forward, as much as is possible anyway since the movie needs a director. What's really interesting is that the movie will be taking off the events of season 9 when Rick was separated from his group and presumed dead. What the audience knows is that Jadis took off with him and the next thing we knew is that Rick was looking out the open door of a helicopter as it soared over a green landscape. From that moment on Rick's part in The Walking Dead series was done, and people were wondering what the future was going to bring. Well now we have some idea since Scott Gimple, the overseer of The Walking dead on AMC, has said this:
"The scale is bigger and the budget is bigger, and it's The Walking Dead, but heightened, both in the narrative themes, but also in just what we see onscreen. I say heightened, but I should also say it's also very different. It's not going to be the exact same thing we saw on television, just larger. We are going in some wild new directions. Movies are a different beast than television. Television is like, boom, we're done. Movies, to calibrate an hour and a half, two hours is no joke, and it's been a lot of fun, but it's a real challenge and we take it very seriously for the fans. We really want to deliver them something special, something worth their trip to the movies. We're trying to be very deliberate and deliver something new."
With this in mind it's fair to say that the world of the Walking Dead is going to open up quite a bit since there hasn't been an enormous amount of movement within the show since it started given that the action has stayed within one large part of the country up until Fear the Walking Dead came along and showed how the epidemic was being handled out on the west coast. There's always been some question as to how far the plague actually spread and how many people were really left given the geographic isolation between those that survived. There's no telling just how far Rick is going to go in the movie or where he'll end up, but it's fair to state that it's going to challenge the fans and bring them a different perspective on the franchise. Bryan Bishop and Nick Statt of The Verge have more to say about TWD.
There's also a plan in place to create a trilogy using Rick Grimes' story, but as one might guess the only real roadblock is going to be whether or not the first movie will generate enough interest and enough at the box office to facilitate the creation of two more movies. Given how TWD has kind of dwindled in ratings throughout the past couple of years it's hard to say with any real assurance that there's no impediment to a full-scale movie performing well, particularly when Rick Grimes won't be seeing many of those that helped to make the show a hit to start with. Luke Hutchinson of ScreenRant has more to say on this. After all several of the favorites have been killed along the way, a few of the best villains have perished, and apart from Jadis it's hard to say just who he'll be meeting up with as the story goes along. But there is a plan in there somewhere and it does sound as though Gimple and whoever is in charge are positive that things will be looking up once a director is found and the movie is put on track. Right now on TV TWD is more or less faltering still since the ratings have never really been the same since they started to drop, especially after getting rid of key characters that people followed the show for early on. With some characters it was just a matter of time until they met their end since many of those that had read the comics knew very well that some people weren't meant to get out of the story alive. But with the direction that the show has taken in recent years it's easy to say that we've had our emotions tweaked so many times that it's become second nature to figure that no one is safe any longer.
This kind of ramps up that same feeling for a movie however since in the course of a season a character's death can be built up in many ways, but in a movie things have to progress quickly or everything tends to get too rushed by the end and people feel largely dissatisfied when leaving the theater. Hopefully this won't be the case with the first Walking Dead movie.