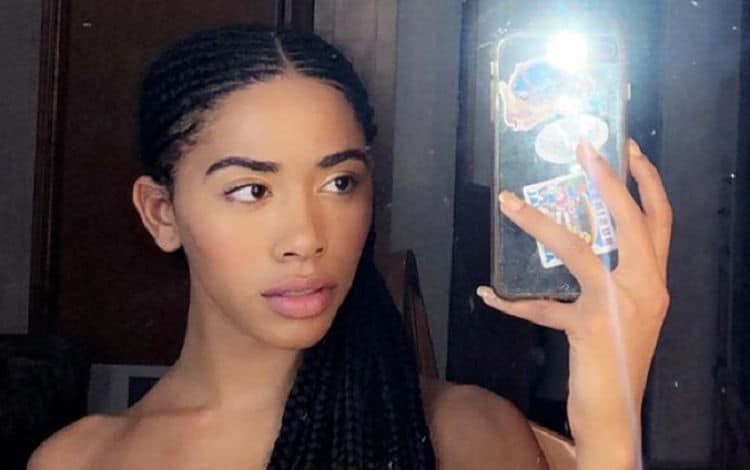 If you haven't already heard of Herizen Guardiola, you soon will. After making waves with her acting debut in Baz Luhrmann's The Get Down, her career is set to go stratospheric in 2020 thanks to her lead role in Dare Me, the TV adaptation of Megan Abbott's critically acclaimed novel of the same name. Find out more about the rising star with these ten fast facts.
1. Her acting debut was on The Get Down
In 2016, Guardiola made her acting debut on the Netflix original series, The Get Down, a mystical saga chronicling the birth of hip-hop, punk, and disco in 1970s New York. Her performance went down a storm, not least with the show's creator, Baz Luhrmann, who told Deadline "It's always thrilling to find fresh unknown talent, particularly one who is not only a terrific actor but a magnificent vocalist."
2. Donna Summers was her inspiration for Mylene
To prepare for her big dance numbers on The Get Down, Guardiola spent hours in her trailer listening to Donna Summers on repeat. She also studied the singer's dance moves as a way of getting into character, as she shared with Vogue. "She's majestic in the way she moves and glides across the stage, and she just has this sexiness about her that I had to cultivate. I watched her documentary and a lot of her videos on YouTube. "Love to Love You Baby" was one of the songs I would play in my trailer when I was getting ready to put on a big dance number."
3. She has Jamaican and Cuban heritage
Guardiola was born in Miami, Florida, but has both Cuban and Jamaican heritage. Her Cuban roots come from her father, Juan Carlos, a reggae musician, while her Jamaican heritage comes courtesy of her mother, Venice Pink, who works as a nutritionist and yoga instructor.
4. She's a vegetarian
Given that her mom's a nutritionist and yoga instructor, it's not surprising Guardiola is seriously into the concept of clean living. As well as being a strict vegetarian and organic food devotee, she's big on yoga, practicing her downward dog whenever she finds a spare moment between hikes in Temescal.
5. She finds love scenes challenging
The Get Down included some pretty sexy scenes, something that didn't always sit well with Guardiola. During an interview with The Knockturnal, the actress revealed how she struggled to cope with some of the more intimate encounters on set. "The sex scene in the 3rd episode, I was so awkward because I'm comfortable in clothes and to be grungy and not be that, I felt so naked," she shared. "I felt so embarrassed, it was just very difficult for me. Those are the things that I struggle with."
6. Music is her priority
Even though we first got to know Guardiola through her performance in The Get Down, she's always considered acting to be secondary to her music. "I have albums written and I just really want to express my music and be able to eventually tour and play for fans and people who really connect to it," she's said. As well as featuring on multiple tracks to the soundtrack to The Get Down, the actress has also recorded two songs for her follow up project, Dare Me. As she explained to HollywoodLife, it's an avenue she's keen to explore more of in the future. "Moving forward in my career, I definitely want to do more soundtracks and more movie features, and this is a really good start," she shared.
7. She took a break from acting after The Get Down
After The Get Down catapulted Guardiola into the limelight, it would have been easy for her to capitalize on her newfound fame by taking any of the many opportunities that were thrown her way. Instead, she decided to take a break from acting altogether, surfacing again only when the script of her next project, Dare Me, proved too irresistible to turn down. "I didn't want to act anymore, but then I liked the tone of the script and how it was dark, and I liked how it was very different from other roles that I've done," she told HollywoodLife. "The worst nightmare for an actor is to get type-casted, right? So, I think what made me want to do it was how different the tone was and how different the character was."
8. Her father inspired her love of music
Guardiola's father is a reggae musician, and she credits his influence for her love of music. "I was always listening to my dad," she told V Magazine. " My sister and I were backup singers for him, and he was the first person to teach me how to play guitar," she recalls. "Just watching him made me fall in love with music." Her mother can also take some of the credit: "My mom's Buddhist, so we grew up going to temple and listening to chants," she went on to say. "That influenced my mind and the way I write."
9. She modeled to supplement her music career
Before landing the part of Mylene on The Get Down, Guardiola was busy making plans for a career in music. Unfortunately, even the best-laid plans aren't enough to pay the bills, so the aspiring artist took to modeling as a way of supplementing her income. Eventually, she decided to sign up with the theatrical division of the modeling agency "for the heck of it"- a decision that soon paid dividends when one of her first auditions turned out to be for The Get Down.
10. She considers California her home
Although she was born in Miami and spent most of her childhood in Florida, Guardiola considers California her home after relocating to the state when she was 15. "I like to surf, I like being by the ocean and it's really good for my music," she told Elle. "They have a very good music culture and it's really easy to meet artists and collaborate so it's the best place for me."