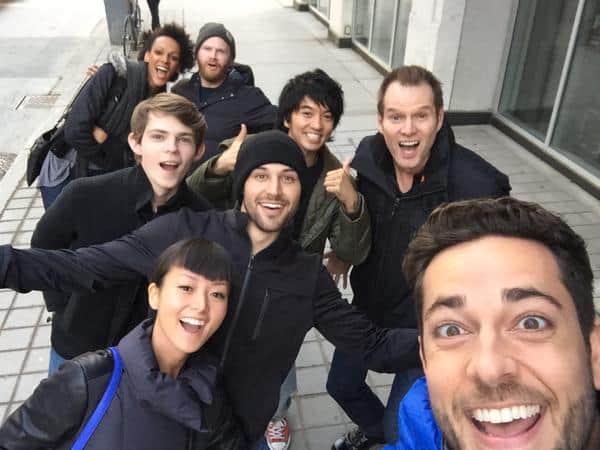 Everything appears to be just super for the cast of Heroes Reborn, at least in this first photo of them all, which was posted on Twitter yesterday by series star Zachary Levi. "It begins," Levi wrote, meaning that Heroes Reborn will most likely start production on its first episode sometime this week (if it hasn't started already).
With Levi in the photo are his many Heroes Reborn cast members, including Judi Shekoni (EastEnders), Henry Zebrowski (A to Z) Robbie Kay (Once Upon a Time's Peter Pan), Ryan Guzman (Pretty Little Liars), Kiki Sukezane (The Yokai King), Toru Uchikado, and Jack Coleman, who will reprise his role as Noah Bennett/HRG from the original Heroes in the new series. Masi Oka, who played the teleporting and time-traveling Hiro throughout all four seasons of Heroes and is set to set to recur as the character throughout Reborn, is finishing filming on Hawaii Five-0 this week, thus explaining why he was not a part of the cast photo.
Not too much is known yet about Heroes Reborn, which will serve as a 13-episode revival of Tim Kring's original series, featuring both returning characters (played by Coleman and Oka) and many new ones (played by the likes of Levi, Kay, and the rest of the cast). However, while no exact story details have been revealed (we still have no idea who will be playing  a hero or a villain, for example), it is clear that Heroes Reborn will be, similar to the first season of Heroes, about these individuals discovering their gifts and how and why they should use them.
Heroes Reborn premieres this fall on NBC. Check out Levi's tweet, featuring the cast photo, below.
It begins. @TheJackColeman@ryanAguzman@judishekoni@HenryLovesYou@RobbieKay_@KikiSukezane@toru_uckd@heroespic.twitter.com/VGZQJDjNhb

– Zachary Levi (@ZacharyLevi) March 31, 2015
Were you a fan of the original Heroes, and if you were, will you give Heroes Reborn a shot when it hits airwaves this fall?
[Photo via Twitter]