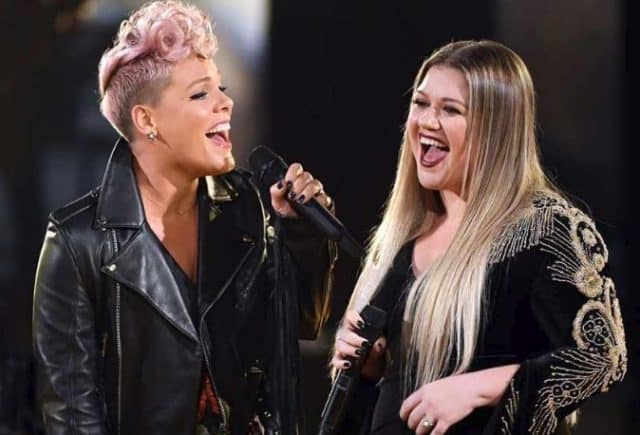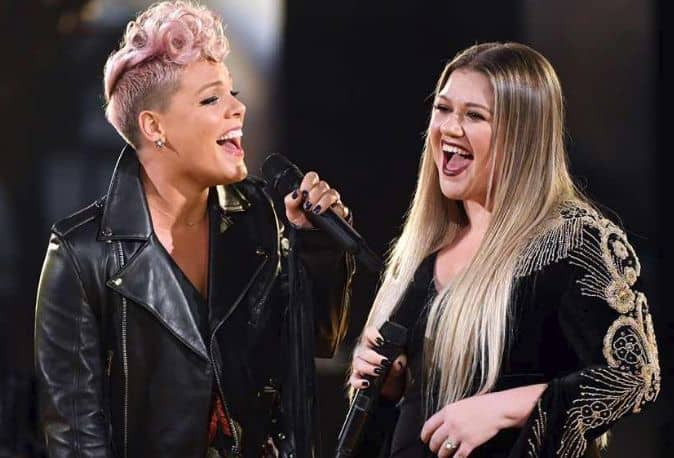 On November 19th, the show to watch was definitely The 45th Annual American Music Awards from LA's Microsoft Theater on ABC. The show was hosted by Tracee Ellis Ross who just happens to be the incredibly talented Diana Ross' lovely 45-year-old daughter. At one point in the show, she wore her mother's bedazzled blouse that she was wearing during a joint performance with Michael Jackson in 1981. During that unforgettable performance, they wore matching white suits with the now-famous shirts and bowties. Tracee said that she found the blouse in Mom's garage. And, what was she doing there? Well, she quipped that she was shopping/stealing.
Prime Performances  
Since most of us tune into these awards shows more for the performances than the awards themselves, we'll start by mentioning a few outstanding performances of the night. We'll never forget how great Kelly Clarkson and Pink were at performing R.E.M.'s "Everybody Hurts, to kick off the show. Christina Aguilera wowed with her tribute to the one-and-only Whitney Houston whom we lost 25 years ago. It was truly memorable and a tribute both to Ms. Houston, as well as to the many talents of Christina. The ending of the show was an affair to remember, too, with Diana Ross and her entire family taking the stage together. Her grandkids truly stole the show and, all in all, it was a beautiful family moment. Another memorable moment was seeing the lovely young Selena Gomez perform for the first time since her surgery. And, the top of the great performances list must, of course, go to the one and only artist who has a cute pastel color for a name.
Pink Was Truly Flying High!
Now, everybody in the world is well aware that the amazing Grammy-winning Pink sings and performs like a superhero. Every time you see the multi-talented Ms. Pink, she's got a new stunt that always surpasses her previous one. It's kind of become her trademark and this girl has got more courage and sheer crazy than anyone else in the biz! This year's stunt was definitely a showstopper when Pink took to the air but not inside the theater like in her previous performances. This time, she chose the great outdoors and the side of LA's JW Marriott Hotel. Yes, she sang, danced and flipped all over the side of that massive structure in death-defying excellence. Can't wait to see what she comes up with for her 2018 tour!
Most Noms & Most Awards
So, who got the most nominations of the night? Well, that would be the fabulous Bruno Mars with a total of eight nominations. And how many did he actually win? Seven! He won the awards for:
Artist of the Year
Favorite Pop/Rock Album for "24K Magic"
Video of the Year for "That's What I Like"
Favorite male artist
Favorite male soul/r&b artist
Favorite soul/r&b album for "24K Magic"
Favorite soul/r&b song for "That's What I Like"
Yes, it was truly a 24K year for Bruno! Too bad he wasn't there. We would've loved to see him perform.
AMA Style Statements
Style-wise, although this would seem to be an event where you'd be expecting most of the big stars to be wearing bold unforgettable colors, this year many of them went for classic black. Yes, from Demi Lovato to Ciara, Skylar Grey, Selena Gomez, Kelly Rowland, Kelly Clarkson, Lydia Hearst, Madeleine Petsch, Chrissy Metz, and Bebe Rexha, black was definitely in. And, no matter what color the stars were wearing, one accessory seemed to be the new thing this year. It was definitely JN Jewels. They were everywhere, including adorning the likes of Little Big Town's Kimberly Schlapman and country star, Lauren Alaina, just to name a few. And big designers? Well, they abound at every big awards show from Hollywood to Nashville and this year's AMA' included a few, like Carrie Underwood in Fouad Sarkis Couture, Miranda Lambert in Tony Ward,
Kelsea Ballerini in Michael Kors Collection, Faith Hill in Armani Privé, and Michelle Monaghan in Paco Rabanne.
The Other Winners
Although the stars of this show were many, let's not forget the other winners, including these favorites:
Lifetime Achievement- Diana Ross
T-mobile New Artist of the Year- Niall Horan
Xfinity Collaboration of the Year- Luis Fonsi's "Despacito" featuring Justin Bieber & Daddy Yankee
Tour of the Year-Coldplay
Female Pop-Rock Artist- Lady Gaga
Pop/Rock Duo/Group- Imagine Dragons
Pop-Rock Song- Luis Fonsi's "Despacito" featuring Justin Bieber & Daddy Yankee
Country Artist – Male- Keith Urban
Country Artist – Female- Carrie Underwood
Country Duo/Group – Little Big Town
Country Album – Keith Urban's "Ripcord"
Country Song – Keith Urban's "Blue Ain't Your Color"
Artist- Rap/Hip-Hop – Drake
Album – Rap or Hip-Hop – Kendrick Lamar's "Damn"
Song – Rap – DJ Khaled's "I'm The One" with Chance Rapper, Justin Bieber, Lil Wayne, and Quavo
Female Soul/R&B Artist – Beyoncé
Artist- Alt. Rock – Linkin Park
Artist- Adult/Contemp. – Shawn Mendes
Latin Artist – Shakira
Contemporary/Inspirational – Lauren Daigle
EDM – The Chainsmokers
Soundtrack- "Moana"