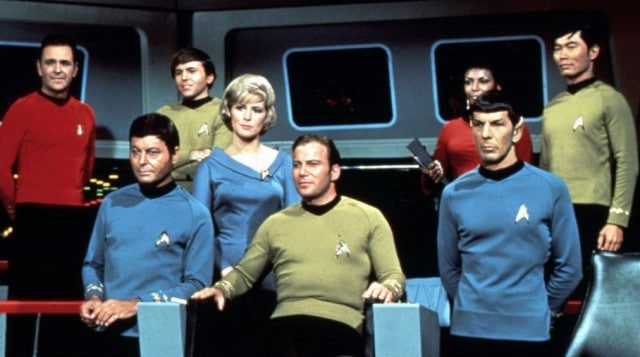 Call me crazy but there's something awfully funny about a Vulcan that all of a sudden starts laughing and cursing because he forgot his line. I'm a huge fan of bloopers. Nothing's better than when you see how "human" someone truly is. And no time is more human than screwing up in the middle of a scene and laughing to the point of being in pain.  And if you take the type of show coupled with these emotions, Star Trek ranks right up there for potential laugh factor.  I mean seriously.  How often do you get to see Leonard Nimoy break down into laughter.
So whether it's one of the movies, television shows, or simply a time for one of the actors to be drunk, here is a great collection of Star Trek bloopers.
Star Trek Generation – Season 5 Bloopers

Wow.  And I thought our first clip would come from the original show.  Nope.  Turns out that no one screwed up as well as these guys.   Plus Lavar Burton. Come on!
Bloopers from the Original Series
https://www.youtube.com/watch?v=b0cDhFVpol8
I still find this impossible to believe.  There's a scene where a woman gets felt up.  I'm not joking.
Star Trek Voyager Bloopers
Obviously these guys knew they were the step children of Star Trek shows so they went nuts on set.
Star Trek Enterprise Season 3 Bloopers

Scott Bakula!  I never saw one episode of this show.
Star Trek IV Bloopers
That was some voyage home!