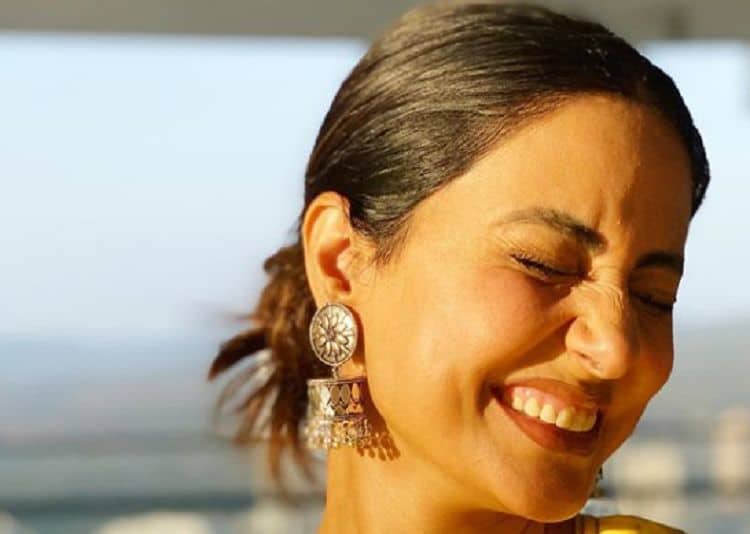 If you are a fan of Bollywood films, then you must have come across one beauty that goes by the name Hina Khan. Most Indian women are beautiful but what sets Hina apart is her rise to becoming one of the most sought-after actresses in Indian television. However, there is more to her than just her acting career, as you can see from these ten facts.
1. She is a fitness freak
Hina is not just beautiful, but her body is one that sends ripples of jealousy among women and men drool over her. However, as she reveals on Bollywoodshaadis.com, she works hard at keeping herself fit. Apart from following a strictly low-carb and high-protein diet, Hina hits the gym for some high-intensity interval training. She works out for at least an hour for six days in a week. When Hina wants to take a break from the gym, swimming, jogging, yoga and running are also part of her exercise routine. Besides working on her body, Hina also follows a routine to keep her skin glowing, including taking 12 glasses of water every day and waking up to a glass of lemon water.
2. She can sing
Some people have it all; the looks, the brain and in the case of Hina, the voice. She has a sweet melodious voice that her fans love so much so that when she made her debut as a singer in 2017, the video got over 45k likes on Instagram. Hina has always loved singing and includes her brother in her songs. When she sang Vande Matram, she had such a wonderful time that she considered giving music a try, as a profession. With her hectic acting schedule, it must be tough balancing the two but still Hina continues doing what she loves, which is singing and acting.
3. She is among the highest-paid actresses in India
No force is powerful as a woman who knows her worth and is determined to rise. Hina Khan after making appearances in two reality television shows knew that she was a hot cake in the industry. Therefore when she got the role of the antagonist on Kasauti Zindagi Kay 2, she asked to be paid Rs 2.25 lakh per episode which the producers agreed. With the amount, Hina Khan becomes among the highest-paid actresses in Indian Television. She surpassed people like Divyanka Tripathi and Sakshi Tanwar, whose salary go up to Rs 1 lakh and 1.25 lakh per day respectively, as per Filmi Beat.
4. She comes from a close-knit family
Hina is the eldest of two children, her younger sibling being her brother Aamir Khan. According to Savasher, Hina considers her family her life, so it is no surprise that she regularly posts photos of the together. Hina even took her brother and parents for a vacation in the Maldives.
5. She was once accused of jewelry fraud
Celebrities are always involved in scandals; if it is not infidelity, then it is money-related drama. Hina was caught up in a case of jewelry fraud according to Times of India. She got a legal notice to return jewelry that a particular brand had given her to wear during the Dadasaheb Phalke awards event held in April 2018. However, Hina responded by filing her own legal notice accusing the jewelry brand of trying to take advantage of her celebrity status, yet she never wore the piece claimed.
6. She is asthmatic
Hina revealed that she has asthma and joins the list of other celebrities who have been asthmatic since their childhood. Famous people like Jessica Alba, Eminem, Bono and David Beckam, were sickly children and for the case of Bono, one of his children inherited the disease.
7. She has always been a first runner up in competitive reality shows
Some of us have a competitive streak in our DNA and will, therefore, engage in contests to prove ourselves. Hina seems to be among the competitive celebrities, and she joined Fear Factor hoping to take home the Rs 20 Lakh that is equivalent to $28,000. Unfortunately, she finished as the first runner up, but that did not stop her from entering Big Boss 11 where Rs 44 Lakh was at stake. Hina ended up being the first runner up and lost to Shilpa Shinde with whom they had been fiercely competing.
8. She has been rated among the top 50 sexiest women in Asia
There is no doubt that Hina Khan is one beautiful woman to meet all the parameters used to gauge a women's beauty. As such, Eastern Eye ranked her among the 50 sexiest women in Asia for five consecutive years beginning from 2013. Men also consider her hot as seen from an Indian lifestyle men's website, MensXP.com where Hina was number 8 in the list of the 35 Hottest Indian Television actresses.
9. She has millions of fans on social media
Social media has always been used as a platform to gauge someone's popularity; the more the likes on your posts, the more popular you are. Hina is one actress who has attracted loads of fans on Facebook. Ever since she created her Facebook in March 2014, her page has accumulated 2.56 million followers while 2.5 million like it. On Instagram the number is overwhelming; she has 5.8 million followers as seen from her account.
10. She never aspired to be an actress
Everyone has that picture of who they want to be when they grow up. Therefore those who aspire to be actresses join theater and study Fine Arts while singers will start training and look for voice coaches. Hina never dreamed that one day she would be an actress. Instead, she wanted to be a journalist or an air hostess. She consequently wanted to train as an air hostess, but unfortunately, Hina contracted malaria before she could join the academy and her acting talent was spotted.