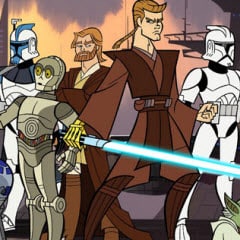 By now you've heard that Lucasfilm was bought by Disney, and with it, the mouse now has full rights to anything and everything Star Wars. We've already speculated about what may happen with the mothballed Star Wars live-action series that Lucas had reportedly 80 scripts for (short answer: who knows), but Disney has given a hint about a different kind of Star Wars program that could go on the air.
From Disney head Bob Iger:
"We really like Star Wars' potential on TV as well and we think Disney XD will be a strong home for that."
That implies another animated show aimed at children. Whether The Clone Wars moves from Cartoon Network to Disney, or this is an entirely new show, I'm not sure. A new show would certainly be welcome, and The Clone Wars should probably stay where it is.
Hopefully we can move out of the prequels finally, and perhaps the new series will be based around the future films that are planning to be released starting in 2015.
Whatever happens, it's a pretty exciting time to be a Star Wars fan. The potential is just limitless right now.