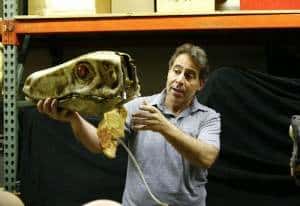 If you're a fan of film and television pop culture, I encourage you to tune in to Hollywood Treasure, an entertaining new series debuting tonight on Syfy at 10pm ET. This weekly documentary reality show, hosted by the world's largest auctioneer of original collectibles – Joe Maddalena of Profiles in History, offers a fascinating glimpse into the world of TV and film memorabilia acquisition.
In August, I had the opportunity to attend the two-day Official LOST Auction, which was hosted by Maddalena and his company. The live auction was an eye-opening experience, equally intense and exhilarating. You will see for yourself how those auctions operate on Hollywood Treasure, as well as the negotiations behind the scenes for precious pieces of TV and movie history. In addition to studios and private collectors, it is unbelievable how many rare items turn up in the homes of people all over the world.
With an auction house, an office and a massive warehouse for storage all in the Los Angeles area, Profiles in History is perfectly situated for the very detailed process of collecting and selling classic pop culture memorabilia. The hunt for these items is surprisingly compelling, and after watching the first two episodes, I highly recommend that you add Hollywood Treasure to your must-see TV viewing schedules.