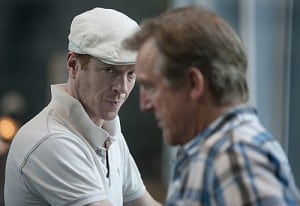 After another truly shocking installment last night, Homeland has officially been renewed for a third season by Showtime. The drama, which follows Emmy winners Claire Danes and Damian Lewis as former CIA agent Carrie Mathison and Congressman Nicholas Brody, will begin production in the spring for another run of 12 episodes next fall. It will again be following Dexter on the schedule, as the serial killer drama was renewed for two additional seasons last winter.
There was never any doubt that Homeland would be getting a third season pick-up from the network. The show has increased in the ratings this season following marathons, the DVD/Blu-ray release, and the exposure it garnered in taking home six Emmys recently. With critical buzz yet to waiver and commercial success continuing to flourish, it's become a major player not only for Showtime, not only during award season, but for the television industry as a whole.
Homeland began this season with Carrie on the mend from her breakdown at the end of the first season, while Brody had a flourishing political career to manage. However, once the former CIA officer was requested on a mission to Beirut, her quiet life was turned upside down once again, all disguises, close calls with dangerous men, and bullets whizzing by her head. Carrie lives for being in the fold at the CIA, to always be working on a plan of attack, but can she keep herself together this time? Or, with Brody now in custody as of the most recent episode, will she finally find a little peace of mind amid all the madness?
In addition to Danes and Lewis, Homeland stars Mandy Patinkin, Morena Baccarin, and David Harewood.
Homeland airs Sundays at 10:00 on Showtime. You can check out the TVOvermind Homeland discussion forum here.
How do you think the second season of Homeland is going thus far? Is it better than, worse than, or about the same quality as season one? What kind of ending do you think the show will have this season?