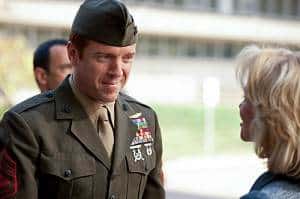 In a matter of 10 seconds, my excitement for the second season of Homeland increased greatly.
Of course, I've been ready to see the results of Carrie's (horrifying) electro-shock therapy and the first steps toward Brody's political career ever since the first season ended; this recently released teaser just stoked the fire that much more. In the clip, we see Sergeant Nicholas Brody, presumed American hero, repeating a line that Abu Nazir told him in the season one finale: "why kill a man when you can kill an idea?". It's not a flashy or "big" promo, but it's deeply unnerving and equally effective, suggesting that Brody's journey into the heart of darkness is only just beginning.
Homeland made quite a splash upon its debut last fall, garnering universally strong reviews and deafening award buzz to match. At the Golden Globes in January, it took home Best Drama Series and Best Actress in a Drama for Claire Danes, while also earning Damian Lewis a nomination for Best Actor in a Drama. Additionally, the show has picked up two Writers Guild of America Awards, a placement on the year-end AFI Top 10, a Peabody Award, and a Satellite Award for Claire Danes. The show is thought to be a formidable Emmy contender and may find itself one of the most recognized shows on television when the nominations come out in July.
The second season of Homeland premieres September 30th at 10:00 on Showtime following the seventh season premiere of Dexter. Refresh your memory of the critically acclaimed drama by checking out reviews of the final two episodes of season one here and here.
Are you ready for the second season of Homeland to kick off? Did the teaser make you more antsy for September to get here? How much damage do you think Brody will cause once he gets into office?