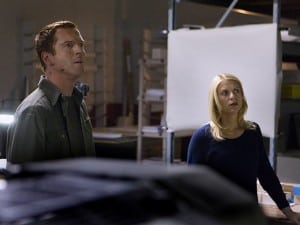 The actors and crew of Homeland have recently begun shooting the third season, which will be full of new guest and recurring characters (read more), but executive producer Alex Gansa (who appeared with co-creator Howard Gordon on ABC News' "This Week With George Stephanopoulos") has also revealed some details about the underlying story for next season.
"The issue in this season is: what happens if it were learned that a major attack on the United States was sponsored by a state? These are the big concerns that we're going to deal with in the first sweep of episodes," Gansa said. "And then there's the big question about, you know, where Brody is? Does anybody know that Carrie helped him get out of the country and will they ever see each other again? And there are a couple more surprises down the pipe."
Season 3 of Homeland will premiere on Sunday, September 29 at 9 p.m. ET on Showtime. Watch the full interview below.
[youtube=http://youtu.be/P1UBabLtEQA&w=540&h=350]