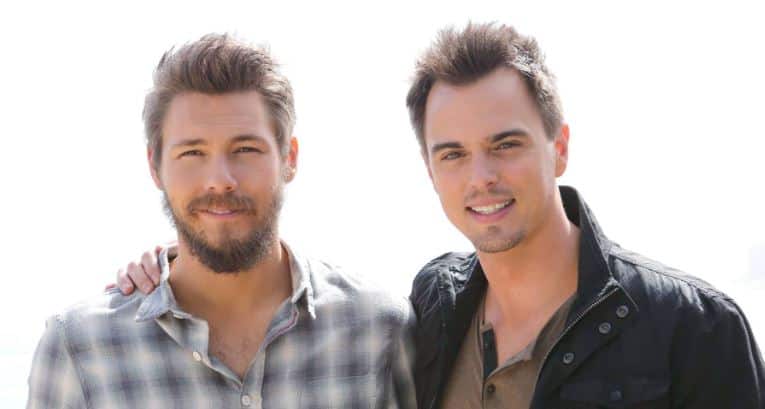 The Bold and the Beautiful fans have been through a lot with these people in the past week. We saw a baby arrive. We saw a proud grandfather. We saw a man torn between the women he loves and a new baby he has to care for. We saw a mother tell her daughter to make things happen right now before it's too late, and we saw Hope ask Liam if they still have a future. But the problem is that Liam really doesn't know what he wants right now. We think his future with Hope is a definite no. He doesn't really care for her; he just can't be alone and his wife hurt him. So he ended their marriage, but now we think he wants back into that situation so that he can be a parent to his new little girl with a whole family of their own to consider.
The week was crazy, and things are only getting crazier in the coming week. Brooke told her daughter to be positive, and basically encouraged her to continue to come between Liam and his new daughter and the baby's mother. It's not pretty, and Ridge basically told Liam that he's making a good decision putting his family first and not allowing Hope to be his wife. Eric wants to see Hope out of the picture, too, and things are getting a little crazy for all of them as no one but Brooke seems to be on Hope's side. It was along week for Hope, and we don't think she can handle what's coming for her now that Liam has such a difficult decision to make.
What's Happening on the Bold and the Beautiful
Sending birthday love to our amazing Co-Creator Lee Phillip Bell. 💕 Join in on the celebration by leaving her a birthday message! pic.twitter.com/54JqajbZlf

— Bold & The Beautiful (@BandB_CBS) June 10, 2018
Co-creator Lee Phillip Bell recently celebrated a big birthday, and that's a big deal for the show. She's one of the genius minds behind The Bold and the Beautiful, and fans are encouraged to leave her some birthday love over on the show's Twitter page. It's all for a good cause, since you wouldn't have the show if you didn't have the woman who helped create it at the same time. Head over to the Bold and the Beautiful's Twitter page to wish her some Happy Birthday Love and thank her for creating such a great show.
What's Next on the Bold and the Beautiful
PHOTOS: Sneak Peek at Next Week. Emma pays a visit to a family member. Ridge and Brooke become frustrated when each defends their daughter to the other. Thorne raises Katie's spirits by spending time with her and Will. Sally Spectra makes a shocking revelation to Wyatt. pic.twitter.com/3wBv8IjsSc

— Bold & The Beautiful (@BandB_CBS) June 9, 2018
Spoilers for the upcoming episodes have us wondering if everyone in this city is going to end up in divorce court before much longer. Ridge and Brooke will never, ever make it. The fact that he is about to confide in his brother, Thorne, about his marital problems knowing that Thorne was trying to get with Brooke right before their recent wedding is a big telling sign for us. They are both putting their daughter's problems in front of their own problems, and they are getting involved in something that really doesn't concern them. It's very interesting to us to see how this is all shaking out, and it's not going to get better.
But we also know that there's more to come. Liam might make a decision that doesn't involve either Hope or Steffy, but definitely does involve his daughter. We think that Liam and Steffy will try and find a way to be friends if he doesn't want to be with her in an official capacity, but we can't say that this will end well, either. They have a lot of issues with one another, and they might not be able to get past those. Their marriage has been a sham from the beginning this time around, and he might finally realize he doesn't need to be with her to make his future count. So in addition to seeing him make a decision and seeing what happens with Hope, we have issues to check out with all of them. It's going to be ugly, but we cannot wait to see that happen. This week should be good, so be sure to stay tuned to see what happens.
Stay tuned for more The Bold and the Beautiful and be sure to check out TVOvermind daily for the latest The Bold and the Beautiful spoilers, news, and updates.