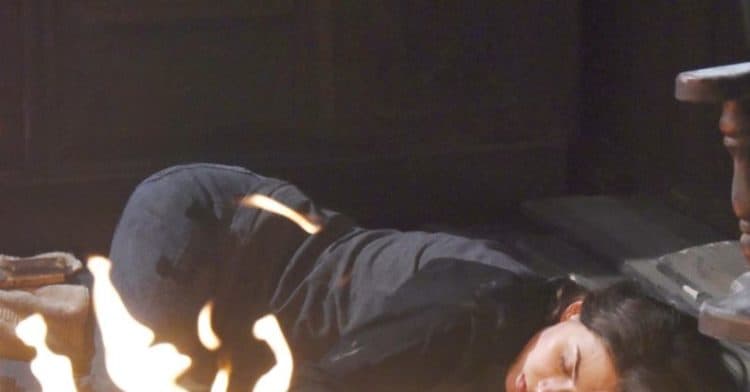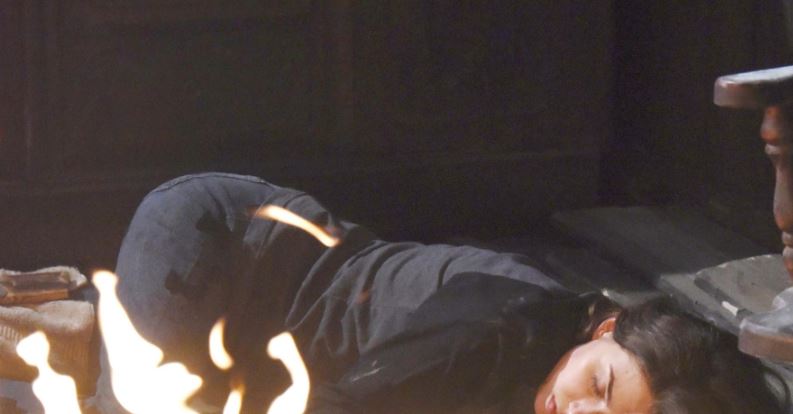 Days of Our Lives fans saw a lot unfold yesterday. For one, we didn't think we would see the day when Theresa decided she felt guilty about all she's doing to Brady, and now is the time for her to feel that way. She's not trying to make him miserable, but she is trying to get what she wants. She expressed her feelings to JJ, who told her that the best thing she can do at this point is to simply get up, get dressed, and make it right. She's not going to do it fast enough, though, which means that something will go down and it will cause someone else to end up hurt. She does feel bad, though, and we did not think we would see that day. It's interesting to see how fast her mind changes, and we are interested to see what else she can accomplish as she moves forward.
Another interesting situation we find ourselves facing is the rescue of Ciara. She's alive and well, and she is back with her mother. We know that Tripp found out she was alive and well, and he made it his priority to get to her as fast as he could. He was not ready to lose her, and he made that clear. This will not make it any easier on her as it will only up Claire's game. But more importantly, we see that Hope is not going to stop questioning her daughter on what happened with Ben. She wants to know everything, every minute detail about their time together. She doesn't trust him – he's a murderer. And she certainly didn't think that allowing him to go free was a wise decision. So, naturally, she's looking for any excuse possible to get him back in a locked up facility.
What's Happening on Days of Our Lives
Awww Rope onscreen & connecting/uniting makes my ⏳ heart so happy💗LOVE seeing this team back on screen & as always, they're igniting the true magic they forever so beautifully bring💗 LOVE Rope💗⏳💗 @galengering @kristianalfonso #Rafe #Hope #Rope @nbcdays @carlivatiron pic.twitter.com/jITGrv6ZAR

— Tiffani (@Serendipity1807) July 9, 2018
Fans are so happy to see that things are working out well for Hope and Rafe, and that's something we've all been looking for. But we all know that no matter how happy we are that they seem to be having a good day right now, things will certainly change before much longer. We know that she's in the middle of a crisis with her daughter, and we've all heard the rumors that Sami is coming home with a baby – that probably belongs to Rafe. Can they make it past that where they are now?
What's Next on Days of Our Lives
This week on #DAYS: Things are heating up in Salem this summer, as several new relationships get steamy. Watch Days of our Lives, weekdays on NBC. https://t.co/p0tDRNfC78

— Days of our Lives (@nbcdays) July 9, 2018
Gabi has been in a bad place for some time. She can't get her life together, she cannot figure out what is going on, and she's upset. She wants to make sure everyone pays for what they've done to her, but she's not out of the woods yet in terms of how she feels and what is going on in her own life. She's got a lot to consider, and it's not been easy for her. She's been in a place where she's suffering more now than ever, and we are about to see her suffer even more when she suddenly doubles over in excruciating pain she cannot deal with. She's not sure she can handle that kind of situation, and it's going to cause her some serious problems. She's going to need medical help as fast as possible, and someone has to be there to make sure she gets it.
We also see that Sonny and Will are – surprise surprise – working together to find Leo. Something just is not right about this guy, and they know it. They need to find out what happened to him, and they need to find out fast. Things aren't going as they were meant to go, and they are working against the clock. They have to find this out, even if Leo has everyone feeling that he's a person who doesn't really stand up for anything good or positive. He's someone who has more issues than not, and we can't help but feel that he's bad news all the way around.
Stay tuned for more Days of Our Lives and be sure to check out TVOvermind daily for the latest Days of Our Lives spoilers, news, and updates.