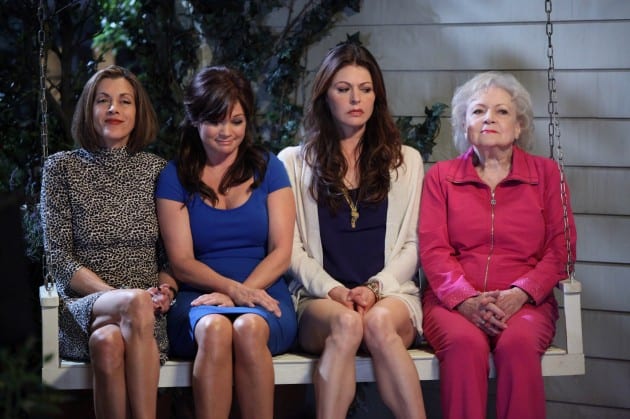 It looks like Betty White will soon be unemployed.
TV Land has announced that its comedy series Hot in Cleveland will end next year, in 2015, after the show finishes its current 24-episode sixth season.
"It's been an honor to work with Valerie Bertinelli, Jane Leeves, Wendie Malick and the incomparable Betty White as well as our executive producers Suzanne Martin, Todd Milliner, Sean Hayes and the rest of our exceptional writers, production team and crew," said TV Land president Larry W. Jones in a statement. "The passion and talent they brought to the set each and every week over the past five years has put TV Land on the map as a network dedicated to quality original programming. We will continue to celebrate the show and are looking forward to a fantastic series finale."
Hot in Cleveland first premiered on TV Land back in 2010 and, at the time, was the network's first and only original scripted series. The premiere episode of Hot in Cleveland was also record-breaking, as it gave TV Land the highest ratings that the network had ever received throughout its 14-year history.
In addition to its strong series regular cast, which was anchored by the irreplaceable White, Hot in Cleveland received a lot of notoriety for the many well-known guest stars that appeared on the show. Some of the most notable names to show up on Hot in Cleveland throughout its run were Late Late Show host Craig Ferguson, Alan Dale (The O.C., Lost), Leeves' Frasier co-star John Mahoney, and Glee actor Chris Colfer.
Photo via TV Land